Halloween is coming early this year. On September 24th, the 35th Anniversary Blu-ray of the 1978 horror classic Halloween will be released, and it's sure to please fans everywhere.
A little Halloween history:
In 1978, Compass International Pictures released Halloween, an indie horror film by an up-and-coming director, John Carpenter, and starring a largely unknown cast (Jamie Lee Curtis, P.J. Soles, Kyle Richards). Presented by the late Moustapha Akkad, the film cost $325,000 and ended up not only becoming one of the most successful independent motion pictures of its time, but it also single handedly created the genre of the modern horror film along with the first iconic (via a painted-over William Shatner mask) cinematic slasher!
Its global success spawned seven sequels, a reboot directed by Rob Zombie, and a sequel-to-the-reboot, as well as created generations of grateful fans. This year marks the 35th anniversary of the timeless thriller, and to celebrate, a special 35th Anniversary Blu-ray edition of the all-time classic will be released.
Halloween 35th Anniversary Blu-ray features:
For this very special release, Anchor Bay and Trancas went back to the vaults to present this legendary terror classic as never before, including creating an all-new HD transfer personally supervised by the film's original cinematographer, Academy-Award nominee Dean Cundey, a new 7.1 audio mix (as well as the original mono audio), a brand-new feature length audio commentary by writer/director John Carpenter and star Jamie Lee Curtis, an all-new bonus feature with Ms. Curtis, as well as selected legacy bonus features from previous ABE releases. Available in a collectible limited-edition book-style package (available only for the first printing) with 20 pages featuring archival photos, an essay by Halloween historian Stef Hutchinson, and specially commissioned cover art by Jay Shaw, the 35th Anniversary edition of Halloween will sell for $34.99. You can pre-order on August 28th.
Bonus features on the Halloween 35th Anniversary Blu-ray include:
-All-new commentary track with writer/director John Carpenter and star Jamie Lee Curtis
-"The Night She Came Home" new featurette with Jamie Lee Curtis (HD)
-On Location
-Trailers
-TV & Radio Spots
-Additional Scenes from TV Version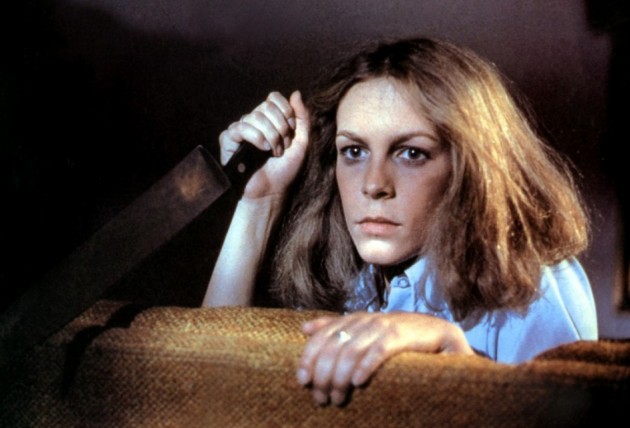 Halloween stars Jamie Lee Curtis (A Fish Called Wanda, True Lies) in her debut role. Anyone who's ever watched a horror film in the last 35 years knows the story of Michael Myers, who as a child, butchered his sister with a kitchen knife. Committed to a mental institution and watched over by Dr. Loomis (Donald Pleasance, Halloween II, IV & V, Fantastic Voyage), he engineers his escape 15 years later, returning to his hometown of Haddonfield, Illinois, on Halloween night to terrorize anyone who gets in his way, including babysitter Laurie Strode (Curtis).
Co-starring P.J. Soles (Carrie, Stripes, Rock 'n Roll High School), Kyle Richards (The Watcher in the Woods, Eaten Alive), Nancy Loomis (Carpenter's Assault On Precinct 13, The Fog), Charles Cyphers (Escape From New York, The Fog), and Brian Andrews (The Great Santini, Three O'Clock High), Halloween also cemented the careers of many behind the camera including Carpenter, Cundey, producer Debra Hill, and film editor/production designer Tommy Lee Wallace (Halloween III: Season of the Witch, It).
Rock Hard \m/