Hughes defeated future welterweight champion Georges St-Pierre at UFC 50 by submission (armbar) to become the welterweight champion for the second time. He defended his title twice before losing it to St-Pierre at UFC 65.
The Fifth Middleweight Champion – Evan Tanner (Feb. 5, 2005-June 4, 2005)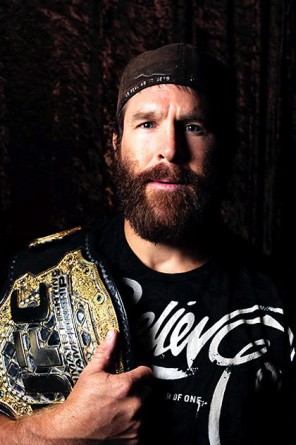 Evan Tanner defeated David Terrell at UFC 51 for the open middleweight belt. The title had been vacant since its last champion, Murilo Bustamante, left the UFC to fight for Pride back in 2002. Tanner won by a first-round TKO. He did not defend his title as Rich Franklin defeated him at his next fight at UFC 53.
The Fifth Light Heavyweight Champion – Chuck Liddell (Apr. 16, 2005-May 26, 2007)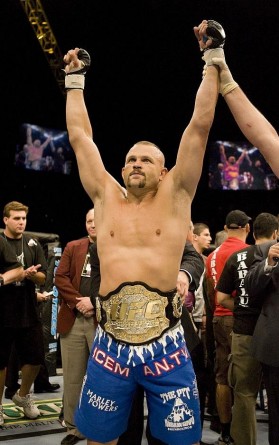 Liddell defeated Randy Couture by KO in the first round at UFC 52 to become the fifth light heavyweight champion. Liddell defended his title four times before losing to Quinton "Rampage" Jackson at UFC 71.
The Sixth Middleweight Champion – Rich Franklin (June 4, 2005 – Oct. 14, 2006)
Franklin defeated Evan Tanner at UFC 53 by fourth round TKO when doctors stopped the fight. Franklin defended his title twice before losing it to the weight class' greatest champion Anderson Silva at UFC 64.
The 11th Heavyweight Champion – Andrei Arlovski (Aug. 12, 2005-Apr. 15, 2006)
Interim heavyweight champion Arlovski was promoted to heavyweight champion when Mir couldn't recover in a timely manner from injuries he received in a motorcycle accident back in late 2004. Arlovski defended his title once before losing it to Tim Sylvia at UFC 59.
The 12th Heavyweight Champion – Tim Sylvia (Apr. 15, 2006-Mar. 3, 2007)
Sylvia defeated Andrei Arlovski at UFC 59 to become the 12th UFC Heavyweight Champion. The win, by TKO in the first round, gave Sylvia his second heavyweight crown. He defended his title twice before losing to Randy Couture at UFC 68.
The Seventh Middleweight Champion – Anderson Silva (Oct. 14, 2006-Present)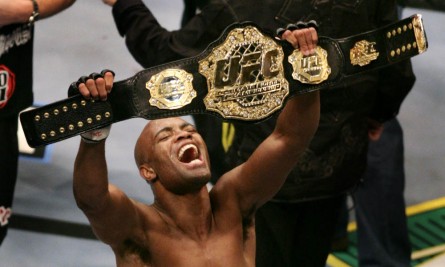 Silva defeated Rich Franklin at UFC 64 by firstround KO to become the seventh middleweight champion. Silva has defended his title a record eight times since.
The Third Lightweight Champion – Sean Sherk (Oct. 14, 2006-December 8, 2007)
Sherk defeated Kenny Florian at UFC 64 by unanimous decision to win the vacant lightweight championship. He defended his title once before the UFC stripped him of his belt for steroid use.
The Sixth Welterweight Champion – Georges St-Pierre (Nov. 18, 2006-Apr. 7, 2007)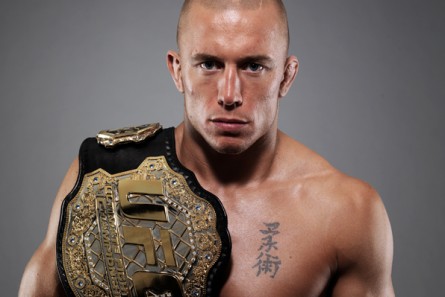 GSP defeated Matt Hughes at UFC 65 by a second round TKO to become the sixth welterweight champion. He didn't defend his title as he would lose to Matt Serra in his next bout at UFC 69.
Who's lucky number 13 for the Heavyweight Championship?