First Major Format Change (April 7, 1995, UFC 5)
After UFC 4, the promotion took a turn. Instead of having the tournament winner declared the champion, there was a Superfight to determine the UFC Champion. The tournament winner was the opponent of the Superfight winner at the next UFC event. In other words, the Super Fight winner became the UFC Champion and the tournament winner the number one contender.
The problem with this change was that the promotion wouldn't hold true to this ideal. Although not confirmed by the UFC, many fans believed the concoction was just so that Royce Gracie and Ken Shamrock could fight each other without having to enter the tournament.
At UFC 1, Gracie beat Shamrock in the semifinals, which led to a rivalry between the two (mostly on Shamrock's side). Fans looked forward to a rematch. At UFC 2, Shamrock didn't enter due to an injury. At UFC 3, Gracie withdrew due to exhaustion. At UFC 4, Shamrock was busy becoming the winner of the first King of Pancrase Tournament.
The first UFC Superfight ended in a draw. Therefore, no champion was declared until July 14, 1995, at UFC 6.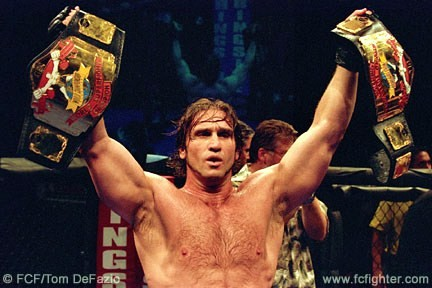 Fourth UFC Champion – Ken Shamrock (July 14, 1995-May 17h, 1996)
Ken Shamrock faced UFC 5 tournament winner Dan Severn and beat him with a guillotine choke. Shamrock became the first Superfight Champion with the win. As for Royce Gracie, he went into retirement. Shamrock defended his title twice, first against Oleg Taktarov (UFC 7, draw) and second vs. Kimo Leopoldo (UFC 8, win).
Fifth UFC Champion – Dan Severn (May 17, 1996-Feb. 7, 1997)
Dan Severn beat Ken Shamrock in a controversial fight at UFC 9 to become the last Superfight Champion.
The Second Major Format Change (Feb. 7, 1997, UFC 12)
The UFC introduced weight classes to the tournament, and by doing so it entered the Middle Years of the promotion. Henceforth, there would be two weight classes: Heavyweight (200 pounds and above) and Lightweight (199 pounds and under).