Ensiferum is a viking folk band from Finland who just released their sixth full-length, One Man Army, to the world with destructive force and almighty power. Their music has always been enchanting and adventurous in terms of its themes and lavish melodies. I actually have been an avid fan of the band since 2007, when Victory Songs first dropped to the industry. I was lucky enough to interview the great Petri Lindroos, guitarist and the main man behind the vocal duties of the band.
---
Petri, I am in a bit of shock right now because I have been listening to your music for about eight years and now I am interviewing you.
Hi, and no need to be, I won't bite.
I first heard you in Norther, and after doing some research found out about Victory Songs in 2007, what do you think about Victory Songs now eight years from now?
I think it's still a great album and has a lot of good songs and that can be heard in our live set as well.
You're just about ready to depart for the United States for the next tour cycle, what is your favorite city to play here?
Playing there has always been good to us and we have had really great shows in so many cities that picking just one wouldn't be fair. We love 'em all.
How have the new songs gone over live, and which one is your favorite to play?
Surprisingly all of the new songs have worked really well live this far, that hasn't happened with previous albums' tours with this magnitude and that is just awesome to see how people dig 'em already now. My fave to play is "Two of Spades," it has this punk rock feeling and the in middle we go '70s disco all the way!
I think One Many Army as an album is more ambitious of combining melodic and thrash metal together, it pulls it off very well, like the middle of "Two of Spades," which is like a dance hall beer drinking anthem.
Thank you very much and it's '70s disco, bro.
I think that is what has always drawn me to you guys, your music is epic, almost an adventure in itself. How does writing songs with scores and stories come across so naturally to you?
You can thank our main song writer Markus for that, surely. He does the main work for the songs at home and then brings them to the rehearsal room where we all sit down and start working with those ideas. All of us give our own touch to the songs and that´s how our music is made in a nutshell.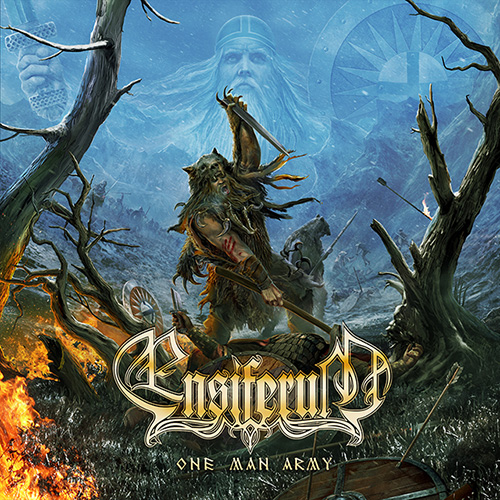 How was the overall writing process for One Man Army?
I'd say pretty smooth. We didn't have any bigger problems at any time and we cut down the amount of live shows so we could focus on writing the songs ready for studio. And, of course, there could have been a couple of months more time but, yeah, we got it done.
Considering the amount of festivals you are playing this summer, including Wacken, what is your favorite festival to play at?
Bigger festivals are nice and so are the smaller ones too. Nowadays I appreciate a festival where everything works like it should. And with this topic too, it´s hard to pick one 'cause there are a lot of good festivals in Europe.
What can people find Ensiferum doing on a day off in the middle of tour?
That totally depends where we are. We could be hanging out in the Flying´j parking lot and checking out a mall and just sleeping our day away, again.