Artist In Flames Album Siren Charms Release Date: 9 September 2014
Label Sony Music Genre Melodic Death Metal | Alternative Metal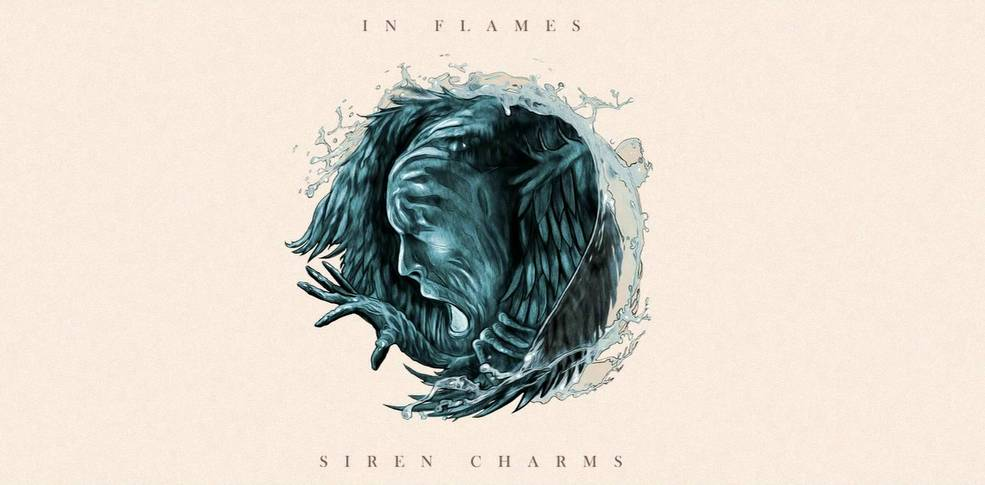 I've been putting off doing this review for months, and in the process listening to Siren Charms on a near daily basis. But basically, I've been at a loss for words because there are essentially two categories of response to the "new" In Flames: either you love them or you hate them. Being that I'm a late comer to the band, I like all eras.
With that little caveat out of the way, let's move on.
So, imagine you're a cybernetic being from the future sent back in time to kill the mother of mankind's future resistance leader. Does that sound a little like Terminator? OK, and the intro to Siren Charms' opening track, "In Plain View," sounds very similar to the Terminator theme. It's not the same at all, but it still taps into that vibe. But soon after the synth has finished up with the intro, the song clearly has nothing to do with the movie, as it blasts off into a fury of riffs and cymbal crashes. With the main riff established, the song enters a soft breakdown and Anders Fridén comes in with his crackled vocals. But don't despair, the music soon amps back up with Anders breaking into his typical howl.
The way "In Plain View" is structured, a roller coaster with high and hard points as well as low and soft points, serves as the architecture for the album. Siren Charms weaves a tapestry of emotions and the music reflects that, being at times quiet and sad and at others loud and angry. And this ebb and flow is executed flawlessly and seamlessly. It's a masterful album with elegant musicianship and song structure.
Overall, however, the album seems to carry on with the sound established on Sounds of a Playground Fading. So if you liked that album, then you'll surely like this one. Although, Siren Charms is the inferior between the two, in my opinion.
If you're not a fan of In Flames bringing the synth sound to the forefront, you probably won't appreciate this album as much as others. Synth is featured quite heavily on a number of tracks, such as "In Plain View," "Through Oblivion," "Filtered Truth," and, last but not least, on the bonus track "Become the Sky," showing very plainly Anders' love for Depeche Mode.
The closest to "old" In Flames fans will get on this album is on the track "When the World Explodes," which features Emilia Feldt. This is a heavy, crunchy track on which Anders really tightens up and shreds his throat. Even "Everything's Gone" gets into the heavy frantic pacing of ye ol' days, but it does have some heavy and melodic hooks that serve to get the crowd going. Plus that ride cymbal, which is also predominantly featured on "Monsters in the Ballroom." In fact, drummer Daniel Svensson is tight throughout the album. As is the whole band; bands don't usually get into their third decade being half-assed musicians.
The Verdict:
I'd point out the standout tracks on Siren Charms, but there's so much ebb and flow here, both within the tracks and on the album as a whole, that what you're drawn to will ultimately be decided by the mood you bring to the listening experience. So, if you like music with a cathartic edge to it, or if you like the direction that Sounds of a Playground Fading established, then you're going to like Siren Charms. If you're looking for wall-to-wall intensity, you should probably sit this one out.