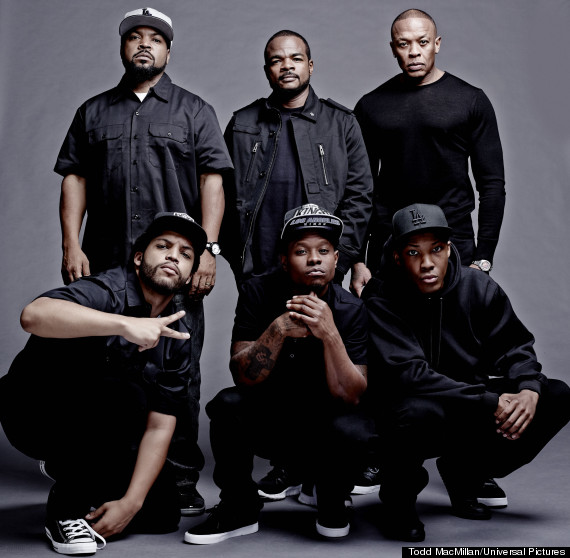 Universal has announced that Straight Outta Compton, the N.W.A. biopic, will be released on August 14, 2015.
Straight Outta Compton Synopsis:
Set in Compton in the mid-'80s, at the dawn of gangsta rap, Straight Outta Compton follows the meteoric rise and fall of N.W.A., It tells the astonishing story of how these youngsters revolutionized music and pop culture forever the moment they told the world the truth about life in the hood and ignited a cultural war.
Above is the first official picture of the cast, which Ice Cube and Dr. Dre tweeted. The pic shows Ice Cube, director F. Gary Gray, Dr. Dre, Corey Hawkins (Dr. Dre), Jason Mitchell (Eazy-E), and O'Shea Jackson Jr. (Ice Cube). Yup, that's Ice Cube's son playing Ice Cube.
Incidentally, Ice Cube was my very first celebrity interview. When he called he said, "Yo, this is Cube!"
Ice Cube, Dre, and Eazy-E's widow, Tomica Woods-Wright, are producing the film. Cube has stated that, "We're telling the story from the inception of N.W.A. to the death of Eazy-E and that's the story."
Filming is expected to commence this July.
Rock Hard \m/