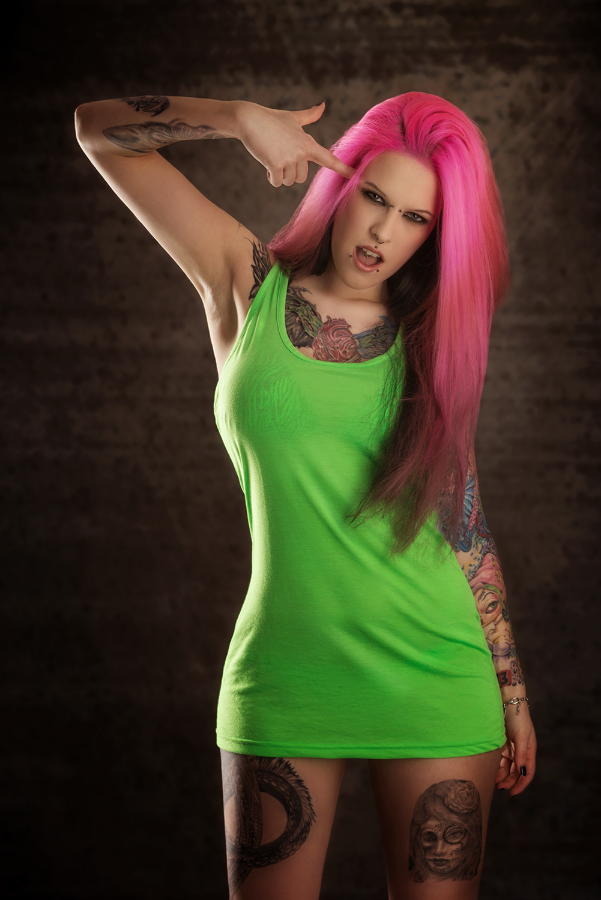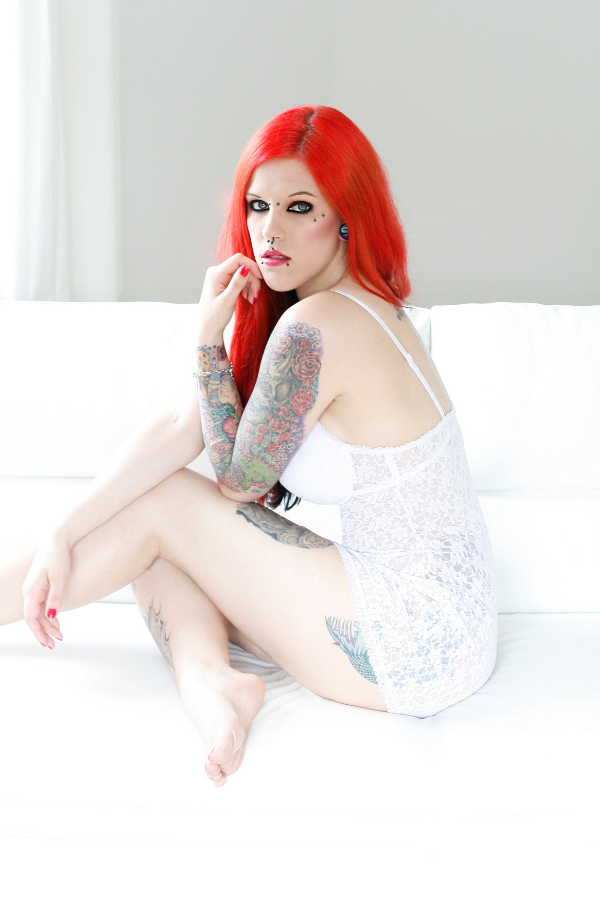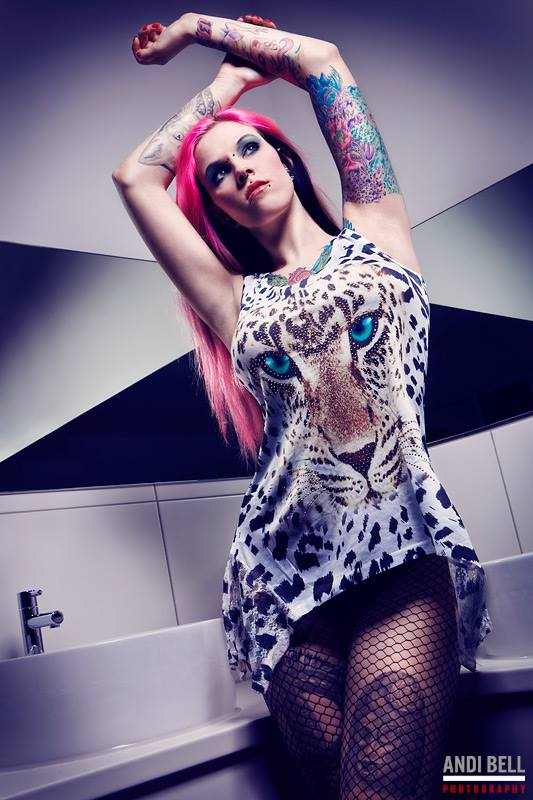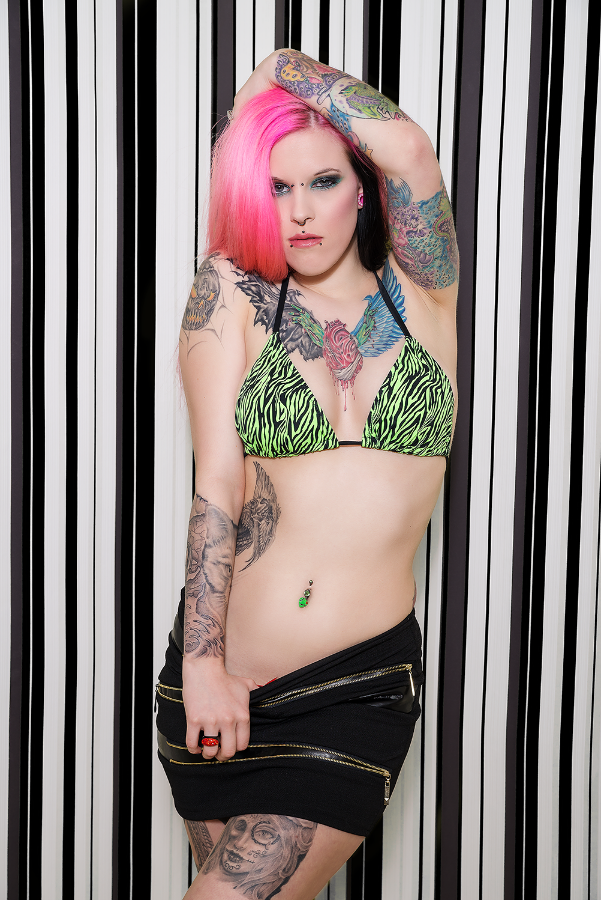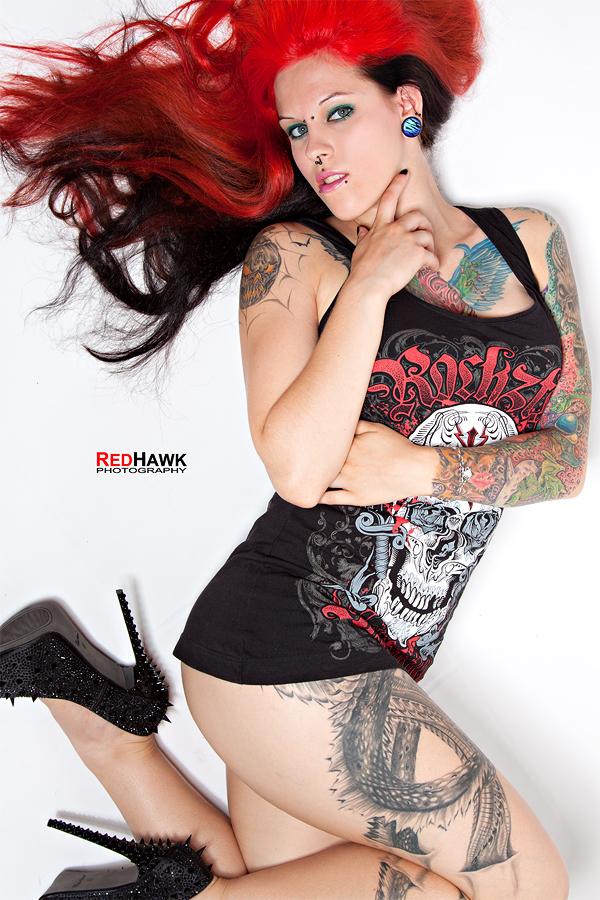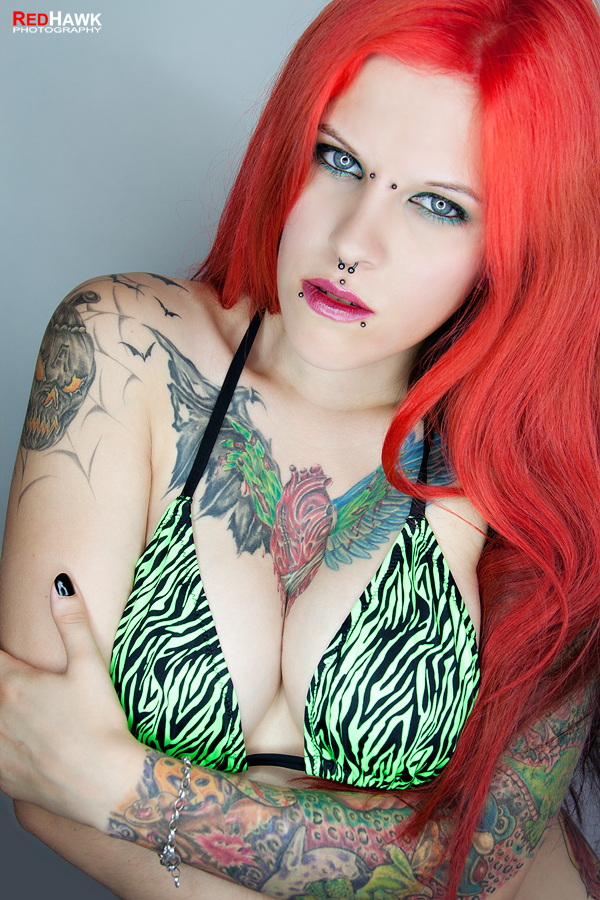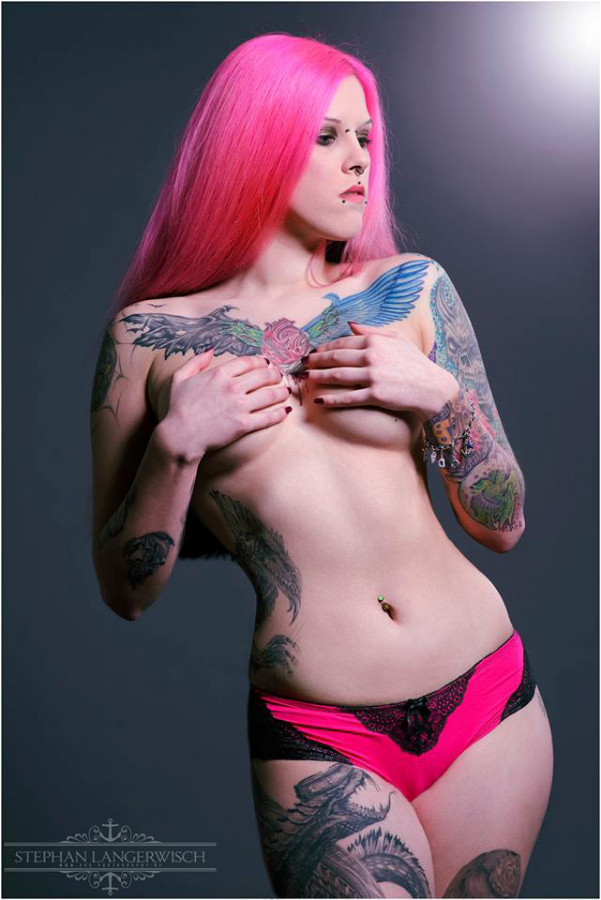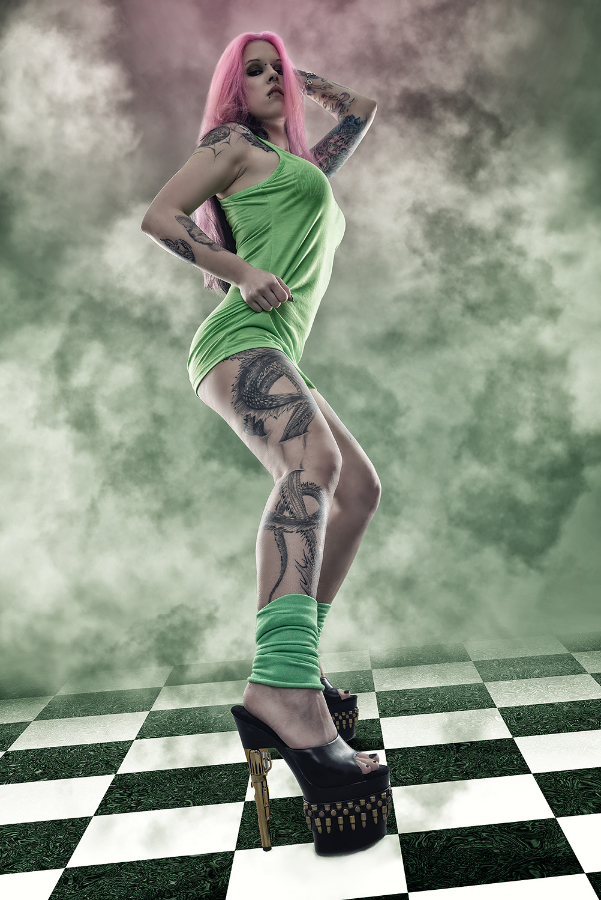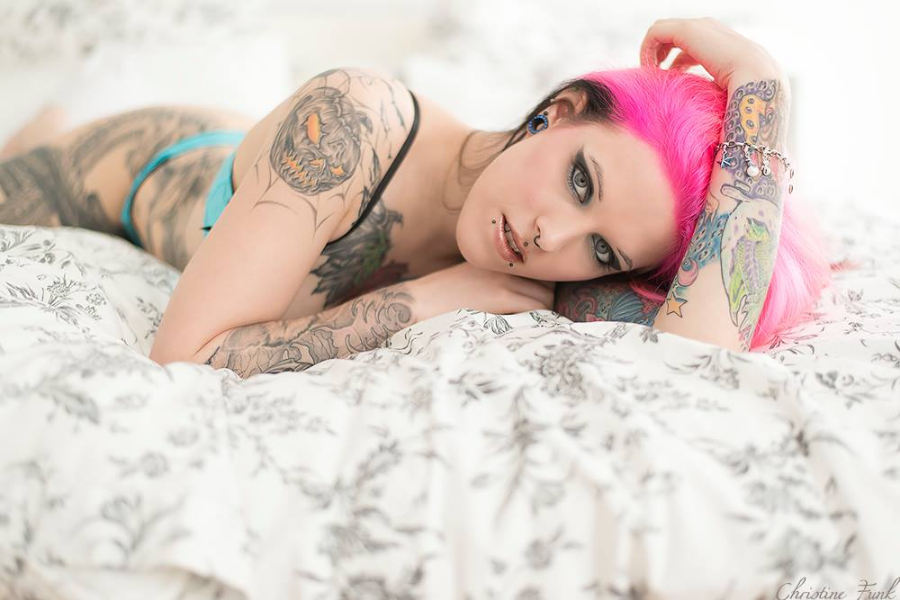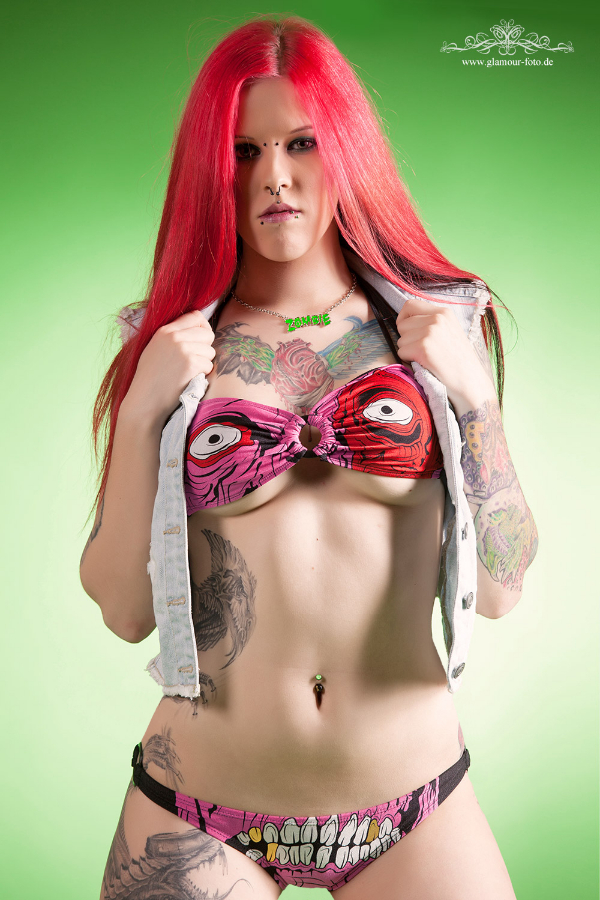 Yasmin Morgan is an easy-going German-based alt model with a mind to keep working on her flesh canvas while not being bogged down by the stresses of the industry. Her personality is as bright as her hair, and like so many before her, she has an obsession for shoes. I had the wonderful opportunity to have a chat with the gorgeous girl, and here's how it went down.
---
When did you start modeling and what was it that made you want to do it?
I think it was about three years ago as I started doing a few shootings and I felt pretty comfortable and I loved to see the results. I tried to get better in changing my mimic and drawing attention to my body. I learned a lot about representing myself and getting more self-confident and open-minded. From the very beginning I decided to do this as a hobby and to have a good time. I don't do this for the money; I'm afraid of loosing the fun factor of it because I know how hard the business can be.
To be a successful model requires a lot, perhaps a gorgeous face, hot body, and lots of time and nerves to get the name out? What's your secret?
I think there is no secret. You just have to feel comfortable in your own skin and, to me, it doesn't matter if you are skinny, athletic, or a bit chubby, as long as you have a good charisma.
What was the hardest part in getting into the business?
It's hard for me getting "into the business" around here. There aren't so many scene photographers or people who want to work with tattooed girls. It's hard to make connections and without connections you aren't a part of the business. So I wouldn't actually say I'm in the scene here in Germany. I just love to work some ideas out, connecting with new people, and try to give the best for my fans.
What would you say gives you the most feminine note in your look?
I love my long, colorful hair. And, of course, you have to show your "sexiness."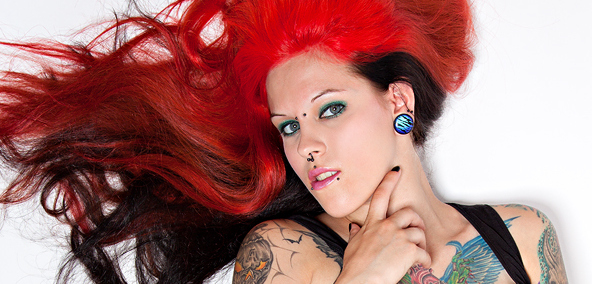 Do you give some creative ideas to your photographers about a photo session, or do you keep it professional and follow their imagination?
I think it's important to swap ideas with the photographers and make conceptions for a shoot. You can't plan a shoot by yourself; there are two parts and these two parts have to be active and communicate with each other.
What is your favorite fashion genre? Why?
I don't think that I have a favorite one… I wear what I like and when I'm in love with a pair of shoes, I need them. I'm very colorful and combine that with some black stuff. If I have to choose a few brands, I'd say: too fast, Iron Fist, Darkside Clothing. [Also], Animal Prints, Zombies, shrill-colored stuff.
I've noticed lots of cool ink on your body. When did you get your first tattoo and what was it?
My first tattoo was a skull with roses around it. It's on my left upper arm and I got it three and a half years ago.
Guide me a bit in your inked madness. What's your next piece of ink going to be?
I have so many plans and ideas of what I want to get inked. I want a pretty big kraken and a moray on my left leg. Black and Grey, realistic. My right upper arm is empty, so it wants to get filled. I want a Shire Horse that is rearing. As a tribute to my beloved family I want to get a cat paw for my mother, a dog paw for my brother, and a bear paw for my father. They should be inked as footsteps in the sand with their birthdays beside.
Find out what Yasmin Morgan's definition of beauty is and why she loves the Bodypump after the jump…