This is
the
big summer for movies. Among the 2012 blockbuster movies this year are
The Avengers
, which has been over 10 years in the making, the long-awaited prequel to
Alien
(
Prometheus
) finally hits cinemas, and Abraham Lincoln shows his hand at vampire slaying.
From a genre film fan's point of view, the 2012 blockbusters this summer will be memorable.
Without any further delay, let's get on with the 2012 blockbuster movies, summer edition. In no particular order, so lay off with the "What? How is this not Number 1?" comments.
No.13 The Avengers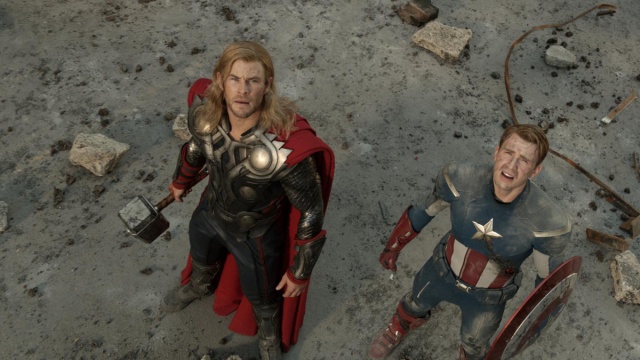 What can I say about this film that's not already been said? Thor, Captain America, The Incredible Hulk, and the two Iron Man films have all been building up to this. It's the film I've been waiting over 10 years to see (rumors of a Captain America film being released a year before The Avengers movie started circulating way back in 2000) and if previous performance from the other films are anything to go by, this will be the one to watch this summer.
To quote Director Joss Whedon himself: "This is a war film." We know Loki will be one of the bad guys, but the identity of other opponents Earths Mightiest Heroes face in the movie has been one of Hollywood's best kept secrets. At the end of The Incredible Hulk the origin of The Leader was teased, plus The Abomination was left alive; so might they make an appearance? I can't wait to check this one out.
---
No.12 Men In Black 3

Just when you thought it was safe to go back into the multiplex, Columbia spring another MIB film on us. I liked MIB 1, it was funny, original, and incredibly entertaining stuff. Men in Black 2, on the other hand was a terrible, hastily assembled cash grab even Johnny Knoxville couldn't save.
Now that the Transformers movies have illustrated that shameless cash-ins are worth their weight in gold, we can expect a flurry of films of this nature. Men in Black 3 could go either way with one caveat, Tommy Lee Jones is not actually in most of the movie.
The plot revolves around an alien threat erasing Agent K (Tommy Lee Jones) from history, leaving Agent J (Will Smith) with the mission to travel back in time to 1969 to team up with young Agent K (played by Josh Brolin but voiced by Tommy Lee Jones) to investigate. Is Tommy Lee Jones not being in the most of the movie part of the original script? Did Tommy Lee opt out ahead of it being written? Has Brolin really got a bad deal? We'll find out at the end of May.
---
No.11 Snow White and The Huntsman

What? You think this is a chick film? From the trailer it looks like Thor with an Axe kicking all kinds of ass.
2012 has two film takes on the Snow White tale. The first one, Mirror Mirror, has been utterly destroyed by critics and looks terrible. On the other hand, Snow White and The Huntsman looks really cool. Like the best fantasy parts from Pan's Labyrinth tied in with a fantasy/dark fairytale genre film and Chris Hemsworth establishing his role as the new badass in Hollywood. Directed by newcomer Rupert Sanders, this really looks like one to watch out for.
---
No.10 Prometheus

"It's about gods and engineers," says director Ridley Scott, returning to add to the Alien canon. It's been 33 years since Ridley Scott's Alien hit the screens and introduced us to this space beast that's haunted nightmares and cinemas on and off over the last three decades.
This film sets up to explain what the mysterious alien astronaut's body (now known as a "space jockey") discovered in Alien was doing on that planet. It's also possible that the film could explore how the alien species came into being. Whether there'll actually be any Xenomorph's in the film remains to be seen, but this one has a great pedigree. Some viral promotional videos have already hit the web and this seems to be another film with more than a few really cool surprises in store.
---
No.9 Abraham Lincoln: Vampire Hunter

Say what you like about the title, it's a dumb title, but do not discount this one. It's directed by fantasy-action director Timur Bekmambetov, who in the past has brought us Night Watch, Day Watch, and Wanted. Wanted wasn't the best film, the story was weak, the twist predictable, and even Angelina Jolie's naked body on screen couldn't stop me wanting the movie to end. The action in it, however, was totally over-the-top, incredibly well-directed, and visually stunning.
Take that style and add the thoroughly silly plot of Abraham Lincoln wanting to rid the world of vampires who are in league with slave owners, and you have what could prove to be the real dark horse of the summer box office. I'm not messing around, this film could be a real winner. Bekmambetov is a proven action director and with production from Tim Burton, it looks like he's been allowed to go all out making what could be a seriously cool historical action fantasy.
---
No.8 G.I. Joe: Retaliation

I don't care what anybody else thought, G.I. Joe: The Rise of Cobra was awesome. It had excellent action, excellent characters, and a thoroughly entertaining story. I went in with low expectations and was more than pleasantly surprised by what I saw. It was exactly what it promised it'd be, a good sci-fi action film based on the old cartoon that was based on the toys that were based on a comic. It had so many different sources that it had to make changes to adapt, but unlike other film series based on toy series, i.e., Transformers, it actually worked really well.
This time around we're back where we left off from the last film; Zartan in the White House disguised as the president leading the United States to declare war on "The Joe's." Channing Tatum reprises his role as Duke, but The Rock takes over the lead in this one as Roadblock. Bruce Willis makes an appearance as the original G.I. Joseph Colton. With yet more over-the-top action sequences, including color-coded ninjas battling while suspended on the side of a cliff. This one will be one to watch.
---
Find out what other surprises are on our 2012 Blockbuster Movie Preview – Summer Edition after the jump…