The infancy of the tournament-style UFC was dominated by Royce Gracie. Gracie won UFC 1 easily with only Ken Shamrock giving any indication that there was anyone in the martial arts world who could defend against the Gracie style of jujitsu. The UFC doubled its fighter roster for its second presentation from the eight in UFC 1 to sixteen in UFC 2.
Unfortunately, unless you were at Mammoth Gardens in Denver, Colorado, you wouldn't have seen the first seven fights on the card as they were not shown on pay-per-view or the original home video release. In the preliminary round (the first eight fights) only the Royce Gracie/Minoki Ichihara fight made it to video.
The results of the first seven fights are as follows:
---
Preliminary Round:
Scott Morris defeats Sean Daugherty by Submission (Guillotine Choke) at 0:20
Patrick Smith defeats.Ray Wizard by Submission (Guillotine Choke) at 0:58
Johnny Rhodes defeats.David Levicki by Submission (Punches) at 12:13
Frank Hamaker defeats Thaddeus Luster by TKO (Corner Stoppage) at 4:52
Orlando Weit defeats Robert Lucarelli by TKO (Corner Stoppage) at 2:50
Remco Pardoel defeats Alberto Cerro Leon by Submission (Armlock) at 9:51
Jason DeLucia defeats Scott Baker by Submission (Strikes) at 6:41
---
Royce Gracie vs. Minoki Ichihara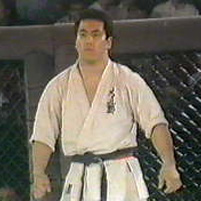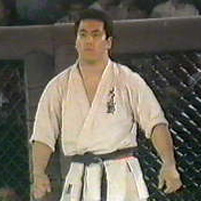 Ichihara had only one fight in the history of the UFC, this one, as he competed mostly in his native Japan during his career as a fighter. According to the video he had won over 60 fights at the time of this competition but it mattered little in the octagon.
Ichihara's discipline was karate and for those who know MMA competition (even at this early stage of its development), any fighter who doesn't have a ground game is usually over-matched by those who do.
It took Gracie just over five minutes to submit Ichihara (5:08 to be exact). Within the first 30 seconds of the bout Gracie took Ichihara to the ground and achieved a full mount almost immediately afterward.
For the next four and a half minutes Ichihara defended against Gracie's fists and head (Gracie would rib punch and head butt Ichihara to get him to release his hold around Gracie's head). After tiring out, Ichihara did indeed release the hold allowing Gracie to sit up and begin pummeling Ichihara's face with strikes. It made Ichihara turn and expose his back.
Gracie rolled along with the Japanese fighter and grabbed Ichihara's upper gi in the process. Gracie then flipped unto his back and used his leverage to wrap the lapel of Ichihara's gi around Ichihara's neck choking him out. Commentators Brian Kilmead and Ben Perry (Jim Brown, the third commentator, was silent at the time) mistakenly thought it was an arm bar.
Royce Gracie vs. Minoki Ichihara Video