Directed byJeremy Wechter Written by Jeremy Wechter
Starring Julia Kelly, John Anthony Wylliams, Christopher Daftsios

Horror | Thriller | Drama - Release date: 14 September 2018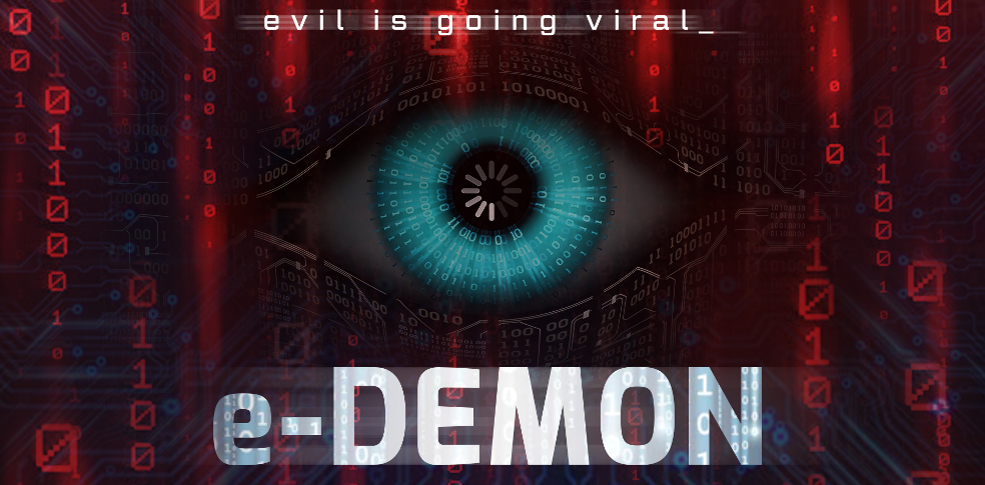 E-Demon, a horror/thriller written and directed by Jeremy Wechter, had its U.S. release on September 14, 2018. Before we get into discussing the film, check out the official synopsis and have a gander at the trailer:
E-Demon Synopsis:
E-Demon tells of an escaped demon on a dark and twisted mission to manipulate a group of friends hanging out in a video-chat. The film is craftily structured – it takes place completely on a computer screen via the webcams being shown. Kendra, AJ, Mar, and Dwayne are old college friends who find themselves growing apart. Attempting to hang on to their good old Ohio State days, the gang gets together online for a night of stories, pranks, and drinking via webcam. As the evening progresses, they unknowingly release a deviously clever demon that had been trapped for centuries in Salem, Massachusetts. Since the demon can possess multiple people at once, the group of friends must determine who they can still trust in order to survive the demon's dark and twisted mission.
I'll be the first to admit that my mind immediately turned to Leo Gabriadze and Nelson Greaves' Unfriended (formerly Cybernatural) when I first saw the trailer and read the premise for E-Demon. One couldn't be blamed for making that leap since both films are supernatural horror films that take place across video chat platforms. By nature, E-Demon can't help but to look derivative.
I don't want to say definitively that this is where the similarities end as I don't want to go back and rewatch Unfriended, but I feel like in Unfriended the evil made itself known and made its rounds of terror on its own, while in E-Demon, the evil spreads like a viral video and we never really see the evil itself. I'm pretty sure that's an accurate assessment.
There's more to the story in E-Demon than a simple tech-savvy demon able to… well, let's not give too much away. Since the characters in the movie have GoPro-style headsets, we get to see what goes on beyond what the computer cameras show. One such important thing is how the demon is released, or how a neighboring friend gets involved. This is an advantage for the storytelling, since the characters don't have to recite lines that were forced into the script to help the audience understand what is going on… and there's already plenty of that.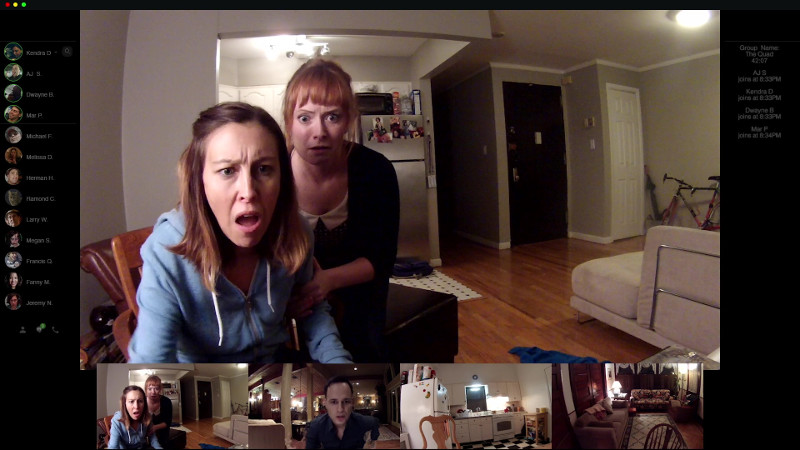 Yes, this is a low-budget project with actors who are doing their best with material that's rough around the edges, a writer/director driven by his work and vision overlooking some of the finer points of refinement, and a script that's pushed through by its story. Nonetheless, there is a fun story here to watch, and all this is the nature of the genre. It's not far from guerilla-style filmmaking — write, shoot, and edit in rapid succession (at least that's how it feels watching movies like this).
The Verdict:
If you take the time to sit down and watch E-Demon, and your not genetically predisposed to disliking movies that are rough around the edges, then you won't mind this flick. It neither of those qualifications suit your needs, then you're just going to hate it.
Rock Hard \m/