Tarantino look out! Keith Sutliff has hit the scene with a film -– he wrote, directed, and stars in -– that gives Reservoir Dogs a run for its money! Crime thriller, The Mason Brothers, hits theaters in April and stars Carlotta Montanari, Nazo Bravo, and, as mentioned, Keith Sutliff.
The Mason Brothers Synopsis:
A group of outlaws attempt to reveal their brothers killer from a neighboring gang after being set up during a bank heist.
Where did you shoot The Mason Brothers?
…shot it all in Los Angeles, California.
How much of The Mason Brothers is inspired by real events?
None really. I came up with it all through just creative thinking. I wanted to tell a story about a tight-knit group of brothers and a bank heist gone wrong where one of the brothers gets killed during the heist. The brothers attempt to find who set them up at this bank and seek revenge. It's a story about revenge and how these brothers react to the death of one of their family members.
Did you have your actors read up on real life crime cases?
No, but I did have them watch other crime thriller gangster/heist films.
When did you decide to do this movie?
In November of 2015, right before I started writing it. I knew I was going to shoot it just because I knew I didn't need a massive budget to do it and the money could be raised for certain.
You wrote the script or co-wrote it?
I wrote it entirely.
In an ideal world, would you have had a major studio make the movie or are you happy you got to do it independently?
I am very happy I got to do it independently because the budget wasn't too high to where I knew I wasn't going to be able to raise it on my own. This way I control more creative aspects of the film and can call more shots in terms of everything (casting, locations, crew, post production team for editing, music, and sound, etc).
Is it a tense film? How would you describe the tone?
It is a very tense and suspenseful film. I help keep the audience's attention with the storyline as well. However, there are light-hearted scenes in the film as well to balance it out and create some laughs too. Not all of it is tense. It's a very dark film overall as most of my films are. I wanted to go for a throwback 1990s heist film feel with a music score to really carry the film courtesy to world-class music composer, Federico Vaona! He did a great job with the music and is one of the best in the business in my opinion. The music kind of has a throwback crime thriller saga feel to it with a sense of a horror film music tone to it at times in the film. It's very unique. That with the overhead lighting in the scenes like I usually do in most of films made the film very dark and helped create suspense.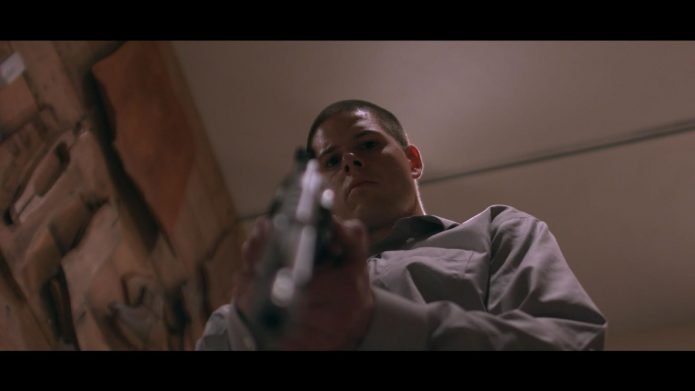 How important is a theatrical release for you?
Very important. It sets up everything for this film as far as building an audience and resume for the film. Even if the theatrical releases doesn't pull in a ton of money, which most times they don't, it will get the word out there for the film as it helps market the film for the aftermarket releases (VOD, TV, foreign markets, etc).
Rock Hard \m/