No.5 "Obscure" – Dir en grey
Let's look at something a little more "Obscure." Japanese band Dir en grey have a bizarre video that features some bad CG, a weird and bloody orgy, zombie-like creatures, stupid clowns, and some crazy-looking woman wearing a kimono who picks a baby's head from a tree and eats it like a piece of fruit.
---
No.4 Necrophagia
I'm cheating a little here with the Phil Anselmo-era of Necrophagia since the video clip contains five different songs/videos, plus interviews. I don't think you'd be able to decide which is the most explicit music video either. The extremely graphic horror contained in the videos is very disturbing and some might find it offensive. If you were to skip anything on this list, this should probably be it.
---
No.3 "Ohrwurm" – Cephalic Carnage
CEPHALIC CARNAGE – "Ohrwurm" from Relapse Records on Vimeo.
The word "ohrwurm" is German for "earworm," which is the term used to describe when a song gets stuck in your head. Knowing this, the worms in the video suddenly make sense. Perhaps, then, this video has something to do with always having sex on your mind or being a serial cheater. Maybe it's about lust and the consequences. Either way, if you're a guy, the ending will make you slam your legs shut.
---
No.2 "It Was Beautiful But Now It's Sour" – Rwake
OK, PETA and other animal lovers; here's the controversial video containing the animal cruelty you've been waiting for. On YouTube, one viewer's comment should give you some indication of what to expect:
"Sorry… Your sound is amazing… but FUCK YOU, you simply CAN'T use animal bodies like that… FUCK YOU A THOUSAND TIMES guys :/"
He's right too, those are real pig feti. However, we don't know the condition in which they were obtained for the video. For example, were they used in a science/research experiment and the band obtained them after they already "died?"
It's nearly 12 minutes of slow-motion video and a wicked sounding track. Enjoy it.
---
No.1 "Forced Gender Reassignment" – Cattle Decapitation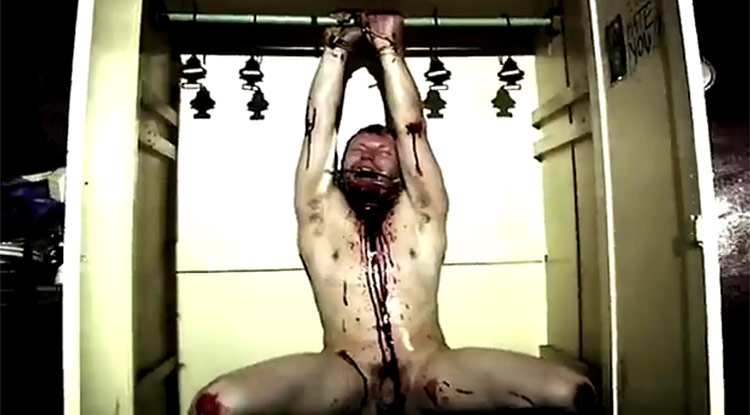 The final video on our explicit music videos list is probably the most disturbingly violent music video ever. If the title of this song doesn't give you any indication, there is genital mutilation in this video. There's also a lot of sexual violence. The videos political statement is made near the beginning of the video, but that's soon, replaced by graphic violence in just about all its forms. Watching this video is accompanied with an extreme WARNING.
Rock Hard \m/