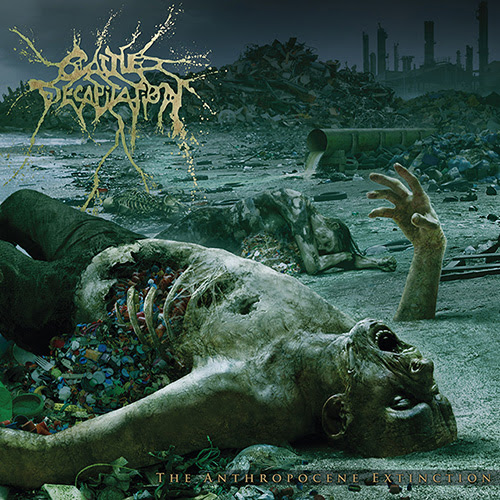 The Anthropocene Extinction is the forthcoming new full-length from San Diego deathgrind icons, Cattle Decapitation. Set for world wide release August 7, 2015, via Metal Blade Records, the followup to 2012's critically acclaimed Monolith of Inhumanity was again captured by producer Dave Otero (Allegaeon, Cephalic Carnage) at Flatline Audio in Denver, Colorado, and includes guest appearances from the legendary Philip H. Anselmo, Tristan Shone/Author & Punisher and Bethlehem's Mr. Jurgen Bartsch.
As a precursor to its release, Revolver Magazine is streaming the album's seventh track and second single, "Mammals in Babylon." Listen to it here.
Offers guitarist Josh Elmor:
'Mammals in Babylon' was one of the earliest songs written for the new album. At that time we had completed several other tunes that fell more on the epic side of our writing style. As a foil to that strategy, 'Mammals' came about based upon a desire to concoct a no-BS, straight-forward ripper. Blending a brutal death metal assault with groovier passages that leads into a bleak, yet triumphant chorus, 'Mammals' has a pounding quality that gives way to a buzz-sawing completion. All the while [vocalist] Travis' [Ryan] lyrics frame humanity's infancy in paradise and our evolution to 'maturity' which now finds us dwelling in a wasteland of our own creation. We invite you to take a listen to the next track from The Anthropocene Extinction.
Check it out and let us know what you think.
Rock Hard \m/