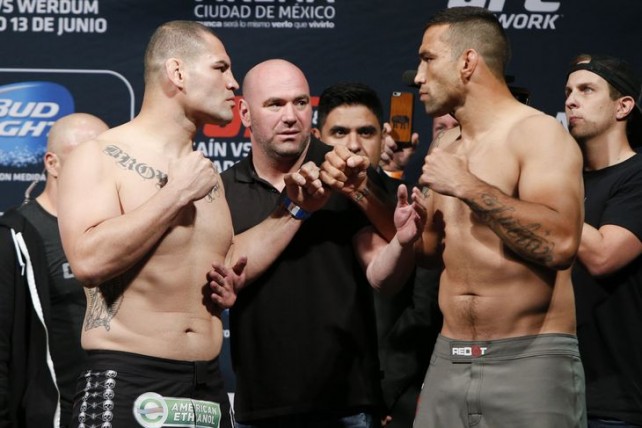 Former UFC heavyweight champion Cain Velasquez will need to wait a bit longer for his title shot since he just pulled out of the rematch with Fabricio Werdum at UFC 196. On Sunday, Velasquez released a full statement on Facebook concerning the news and his back injury, which could lead to further injuries if he had taken the fight with Werdum.
Stipe Miocic is now the new title contender and will face the newly minted champion on February 6, 2016 in Las Vegas. Velasquez is known to having a long list of injuries. His shoulder injuries have had a big impact on his UFC career and has only fought once since October 2013. Velasquez lost the belt Werdum at UFC 188 in June 2015.
UFC 196: Werdum vs. Miocic will co-headline a welterweight bout between Johny Hendricks and Stephen Thompson. Stay tuned to Yell! Magazine for more updates to come on UFC 196.
---
Full Statement from Cain Velasquez
I'm sure you've heard the news that I won't be able to fight at UFC 196. I can't begin to tell you how disappointed I am and how I feel I'm letting you all down. I've heard and read all of your messages of support since my last fight and during this camp and for that I thank you.
Training camp has been difficult for the last few weeks, but sometimes no matter how much the heart and mind want to fight through an injury, healing has its own timeline. We thought we'd get through it, but we had to face the truth that it wasn't going to be OK in time to fight. All of us fighters have all fought injured at one time or another, but I can't ignore this injury, as my doctor has indicated that not addressing the problems with my sciatic nerve could have longer-term consequences.
My fans deserve to see me compete as close to 100% as possible. I'm committed to giving them that. I'm not going to let my fans down, and I want to make sure I do the right things to ensure a long career.
Fabricio, I hope that you accept my sincere apology. I understand how you may think this is an excuse. From one professional to another, I can tell you I was committed and looking forward to competing with you again. I greatly respect you as a fighter and man, and we will meet soon.
I will get this taken care of as soon as possible. I will heal and will come back and show you the Cain Velasquez you all deserve to see.
Sincerely,
Cain