Directed by Nathan Oliver Written by Nathan Oliver, Albert Melamed
Starring Kate Daly, Meredith Heinrich, Michael Madsen, Dennis Andres, Malcolm McDowell

81 mins - Horror | Comedy - Release date: 2 August 2015 (World Premiere Fantasia 2015)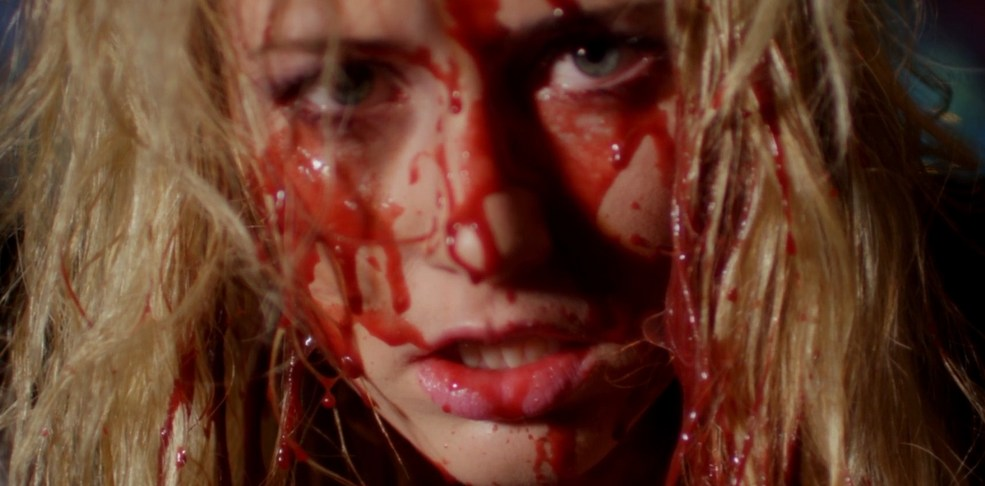 Wow! What a slick and smart movie! Nathan Oliver (director/writer) and Albert Melamed (writer) had their movie, Lady Psycho Killer, make its world premiere at Fantasia last night, and it truly won the hearts of the audience. Good thing too, what with members of the cast and crew in attendance.
The movie started out rough, not entirely bad, but right off the top you could tell that this was a low-budget affair. Alright, this is what we're in for: odd lighting, odd sound, awkward acting. However, the movie quickly finds its feet, corrects its course, and we're off to the races with lots of blood and fun along the way.
What we have here is essentially a coming-of-age story, only it's told from a demented serial-killer perspective. And that just makes for great horror-comedy cinema!
Ella (Kate Daly) enters college, and seemingly society for the first time as she's been home schooled and raised in loving isolation by her single mother (Meredith Heinrich). In her Psych 101 course (note that most Psych 101 courses have about 300 students in them, nothing this intimate), she's given an assignment to break a sexual convention and to write 3,000 words on how society has reacted to it. Sounds like a creepy assignment, especially when it's given by Michael Madsen!), but it's well covered and justified.
Being a virgin, Ella at first finds the task a big challenge, especially when one of her classmates, Daniel (Dennis Andres), shows interest in her. Things move along and Ella finds herself in a strip joint, flirting with the idea of becoming a stripper. But when an overzealous Ron Jeremy (is there any other type of Ron Jeremy?) pushes her too far, Ella discovers her kink, and that kink is killing!
From that point on, blood is spilled, necks are flayed, old men (Malcolm McDowell) are humped while having their innards trimmed, and family lineage is revealed.
The Verdict:
Lady Psycho Killer is definitely worth the watch if you're a genre fan. It's a small film, but it does a colossal job with its story and means. High marks to the filmmakers and cast.