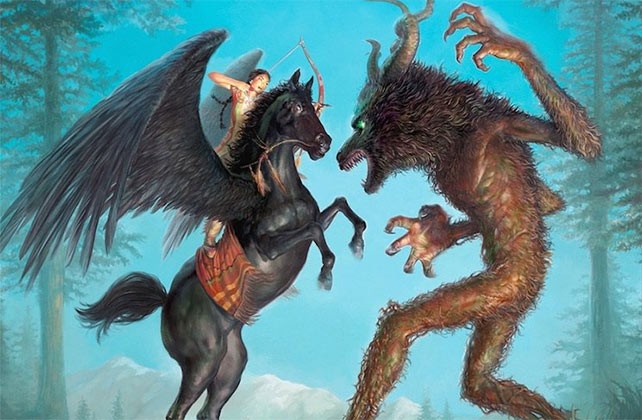 The 19th edition of Montreal's Fantasia International Film Festival is well underway, and it's about time I bring you my must-watch movie list for the year — even if I'm a few days late.
While my counterpart, King Hazard, veered away from horror on his list this year, I haven't. I've stuck the the horror roots and I don't really care if something is too mainstream or not, good movies are good movies. Don't worry though, there's plenty of indie and foreign inclusions on this list… maybe a little something for everyone.
Have a great fest, and feel free to come back to Yell! Magazine to tell us what you saw, what you liked, loved, and hated. The festival runs from July 14th to August 4th.
---
No.10 We Are Still Here
Director: Ted Geoghegan

Ghosts and gore make the perfect combo in Ted Geoghegan's debut We Are Still Here, starring everyone's favorite horror starlet, Barbara Crampton, of Re-Animator and From Beyond fame.
The year is 1979. Anne (Crampton) and Paul (Andrew Sensenig, Upstream Color) are mourning the loss of their teenage son and attempting to start over in rural New England. Before long, however, noises in the basement, falling photos, and a cryptic visit from a very strange neighbor suggest they're not alone. Anne invites over hippie spiritualists May (Lisa Marie of Ed Wood and Mars Attacks! ) and Jacob (Larry Fessenden, also at Fantasia with his Tales From Beyond the Pale radio drama), and things get even more alarming when it becomes apparent the locals are harboring a secret about the house — and the horrible fate that befell its former inhabitants. Soon, a failed attempt at spiritual contact opens the doorway to a supernatural slaughter that would have Lucio Fulci grinning in his grave. The spirits in We Are Still Here aren't simply content to slam doors and lurk in shadows. They're out for blood — and get plenty, literally painting the walls crimson.
Screening Time:
July 19 • 7:20 PM – Concordia Hall Theatre
---
No.9 A Christmas Horror Story
Directors: Grant Harvey, Brett Sullivan, Steven Hoban

The snowy climes of Canada have long lent themselves to Yuletide fear, from Bob Clark's classic Black Christmas to Jason Eisener's short Treevenge. Now comes a quartet of intertwined holiday terror tales from the team behind the Ginger Snaps franchise. In Bailey Downs (the small-town setting of the original Snaps), Christmas Eve is anything but cheerful. Teenaged Molly leads two of her friends into the bowels of a convent-turned-academy where a horrible crucifixion murder took place a year before, and where the bad mojo still dwells. Molly's friend, Caprice, goes on a family outing that leads them into an encounter with Krampus, the "anti-Santa Claus" who punishes the naughty. Scott, the cop who investigated that convent killing, takes his wife and son to cut down a Christmas tree, and they wind up also bringing something horrible home with them. And throughout it all, Santa himself engages in pitched battle with… no, that one's too good to give away.
Screening Time:
July 20 • 9:55 PM – J.A. De Seve Theatre
---
No.8 Synchronicity
Director: Jacob Gentry

Jim Beale (Chad McKnight) and his team of physicists have invented a tremendously powerful device — nothing short of a time machine, that can fold space and time into a directional wormhole. Getting the hole to open is one well-rehearsed thing, but showing it can actually work is another. It also requires tremendous resources, that the ruthless venture capitalist Klaus Meisner (a superbly cast Michael Ironside, also of this year's Turbo Kid) has no problem shelling out… up to a point. Now that a rare Dahlia specimen has appeared from the future, Klaus is determined to screw Jim out of his invention, much like Edison did to Tesla once upon a time. Unless, of course, Jim is able to prove to Klaus that it truly works, and that there is a corresponding flower on this side of the time-space continuum. At which point Jim meets Abby (Brianne Davis), an unexpected femme fatale that might very well be his doom… or his salvation.
Screening Time:
July 22 • 7:15 PM – J.A. De Seve Theatre
July 30 • 12:45 PM – J.A. De Seve Theatre
---
Directors: Neil Marshall, Lucky McKee, Darren Lynn Bousman, John Skipp, Andrew Kasch, Mike Mendez, Ryan Schifrin, Paul Solet, Axelle Carolyn, Dave Parker, Adam Gierasch

For many of us, Halloween is the holiday worthy of celebration. For some of us, it's practically a lifestyle. With that in mind, Fantasia is All Hallows happy to conjure October into July for a special mid-summer Halloween horrorthon. The brainchild of filmmaker Axelle Carolyn (Soulmate), Tales of Halloween is a Samhain-centric anthology feature made by a group of friends who also just happen to be considerable talents in the horror universe. Carolyn contributed an entry, and she's joined by Lucky McKee (May), Darren Lynn Bousman (Repo: The Genetic Opera), Neil Marshall (The Descent), Mike Mendez (Big Ass Spider!), Paul Solet (Grace), Adam Gierasch (Night of the Demons), Dave Parker (The Hills Run Red), Ryan Schifrin (Abominable), Andrew Kasch (Never Sleep Again), and splatterpunk icon John Skipp. Each interconnecting entry takes place on Halloween in an American suburb. Count on tons of gruesome invention in this cheerfully blood-soaked moviemaking party.
Screening Time:
July 24 • 9:00 PM – Concordia Hall Theatre
---
No.6 He Never Died
Director: Jason Krawczyk

Punk-rock icon and master of multiple media, Henry Rollins, has often acted fed up with people, and that's a literal part of his role in He Never Died. Rollins' Jack is a reluctant cannibal, preferring to hole up in his urban apartment rather than pose a threat to the populace, getting most of his sustenance from black-market blood packs. Circumstances do sometimes lead him to sup on bad people, and that's when the beast inside him shows itself, along with a capacity to withstand even the most severe injury. It is possible to touch his heart, though, and his tentative relationship with diner waitress Cara (Kate Greenhouse, a Fantasia award-winner for The Dark Hours) and protectiveness for the teen daughter (Jordan Todosey) he meets for the first time, motivate him to plunge deeper into the city's criminal underworld than he ever might if left to his own devices. And there will be a body count…
Screening Time:
July 26 • 5:00 PM – Concordia Hall Theatre
---
Get the other half of my list, plus a bonus entry, after the jump…