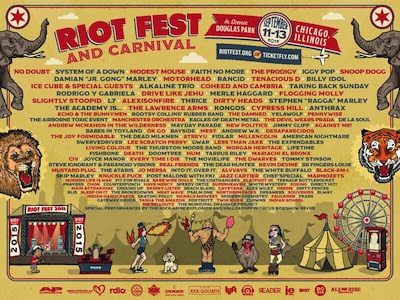 Chicago's Riot Fest and Carnival has announced another wave of kick-ass bands to play in Douglas Park September 11th to 13th. System of a Down, The Prodigy, 88 Fingers Louie, and Chef'Special join the huge and diverse array of bands previously announced.
(Note that the same bands have been added to Denver's Riot Fest and Rodeo, which will be held at the National Western Complex from August 28th to 30th. Get more info here.)
Ticket Info:
Order tickets here.
For those tight on budget, Riot Fest is also bringing back its layaway program, giving festivalgoers the option to pay for tickets in installments leading up to the festival. Details are here.
Lineup:
No Doubt, System of a Down, Modest Mouse, Faith No More, The Prodigy, Iggy Pop, Snoop Dogg, Damian "Jr. Gong" Marley, Motörhead, Rancid, Tenacious D, Billy Idol, Ice Cube & Special Guests, Alkaline Trio, Coheed And Cambria, Taking Back Sunday, Rodrigo y Gabriela, Drive Like Jehu, Merle Haggard, Flogging Molly, Slightly Stoopid, L7, Alexisonfire, Thrice, Dirty Heads, Stephen "Ragga" Marley, The Academy Is…, The Lawrence Arms, Kongos, Cypress Hill, Anthrax, Echo & The Bunnymen, Bootsy Collins' Rubber Band, The Damned, Yelawolf, Pennywise, The Airborne Toxic Event, Manchester Orchestra, Eagles Of Death Metal, The Devil Wears Prada, De La Soul, Andrew McMahon, In The Wilderness, Mayday Parade, New Politics, Jimmy Cliff, Against Me!, Babes In Toyland, OK GO, Bayside, Mest, Andrew W.K., Desaparecidos, The Joy Formidable, The Dead Milkmen, Atreyu, FIDLAR, Millencolin, American Nightmare, Swervedriver, Lee Scratch Perry, GWAR, Less Than Jake, The Expendables, Living Colour, The Thurston Moore Band, Morgan Heritrage, Lifetime, Fishbone, Death, Doomtree, Hum, Tarrus Riley, Mariachi El Bronx, Civ, Joyce Manor, Every Time I Die, The Movielife, The Dwarves, Tommy Stinson, Steve Ignorant & Paranoid Visions, Real Friends, The Dear Hunter, Kevin Devine, 88 Fingers Louie, Mustard Plug, The Ataris, Jo Mersa, Into It. Over It., Alvvays, The White Buffalo, Black-Am-I, Skip Marley, Knuckle Puck, Post Malone with FKI, Jazz Cartier, Chef'Special, Marmozets, Modern Life Is War, Fit For Rivals, Barb Wire Dolls, The Coathangers, Flatfoot 56, Teenage Bottlerocket, Prayers, Chon, Counterpunch, Have Mercy, Speedy Ortiz, Superheaven, White Mystery, Foxing, Direct Hit!, Main Attrakionz, Ground Up, Skinny Lister, Beach Slang, Cayetana, Alex Wiley, Heems, Dirty Fences, Blis,Sleep On It, The Brokedowns, Meat Wave, Psalm One, Northern Faces, Dreamers, Souvenirs, Elway, Indian Handcrafts, Skating Polly, Signals Midwest, Modern Chemistry, Faulkner, PEARS, Gateway Drugs, Tasha The Amazon, Foxtrott, Twin River, Clowns, & Indian School
Several artists have also confirmed that they'll be performing their seminal albums for this year's festival:
-Snoop Dogg (Doggystyle)
-Ice Cube & Guests (Straight Outta Compton Remix)
-Rancid (…And Out Come The Wolves)
-The Academy Is… (Almost Here)
-The Dwarves (Blood Guts and Pussy)
In previous years, Riot Fest has cultivated lineups that feature reunions and rare appearances—and 2015 is no exception. Bands such as Faith No More, Drive Like Jehu, L7, Alexisonfire, Babes in Toyland, Thrice, The Academy Is…, Mest and The Movielife will be making reunion appearances at Chicago's Riot Fest & Carnival. Moreover, rare appearances by the Godfather of punk Iggy Pop, Bootsy Collins, Merle Haggard, Lee Scratch Perry, The Damned, and more give 2015's edition its unique feel.
Fun Stuff:
Outside of the announced bands, this year's festival will also include a stage dedicated to The Rock-afire Explosion, considered by many to be the greatest animatronic rock band of all time. In the 1980s it was synonymous with ShowBiz Pizza Place restaurants, for which it was specifically designed. Combined with a full carnival (rides and games), a circus tent featuring the Hellzapoppin Circus Sideshow Revue, a miniature golf course, a video arcade hall, dozens upon dozens of unique and diverse food vendors that rival Taste of Chicago and more attractions to be announced in the coming weeks, Riot Fest's 11th annual Chicago event might be the best event the organizers have produced to date. Stay tuned for the most up to date news and announcements!
Rock Hard \m/