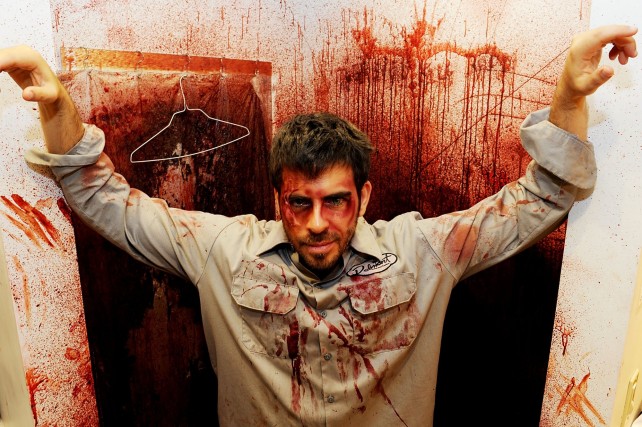 A film based on Steve Alten's megalodon science fiction novel, MEG: A Novel of Deep Terror, has been entrapped in development hell since 1997. At one point, New Line Cinema bought the rights from Alten to have a MEG movie released to theaters in 2008. But that turned out to be a huge disaster after New Line cancelled production in July 2007. Afterwards, Alten's relationship with New Line ended and the movie rights reverted back to him.
Fortunately, Alten hasn't given up on his quest to have MEG adapted to the big screen and it finally sounds like the movie is moving forward again at Warner Bros. with Gravity Pictures recently joining the producing team that consists of Atelles Entertainment and Maedey Productions. Better yet, the movie now appears to have a director in place. According to Variety, Cabin Fever and Hostel director Eli Roth is in talks to helm the giant shark movie. There's no official word if they railed him in for the sharp-toothed project yet. But we'll keep Yellers updated on Yell! Magazine.
For those unfamiliar with MEG: A Novel of Deep Terror, you can read the official synopsis below.
---
MEG: A Novel of Deep Terror
Carcharodon megalodon apex predator of all time, the most fearsome creature that ever lived a 70-foot, 60,000 pound Great White Shark. Hundreds of 7-inch serrated teeth filled jaws that could swallow an elephant whole. It could sense its prey miles away, inhaling its scent as it registered the beat of its fluttering heart, and if you ever came close enough to see the monster…it was already too late. For Navy deep-sea submersible pilot Jonas Taylor, it nearly was too late. Years ago, on a top-secret dive seven miles down into the Mariana Trench, Jonas came face to face with an ancient monster everyone believed extinct. Having barely escaped with his life, Jonas must prove to the world that Meg still exists. When an opportunity to return to the trench presents itself, he takes it, intent on returning topside with a 7-inch tooth! But man s presence in this unexplored domain releases one of the sharks from its purgatory, and now Jonas is the only one who can stop it.