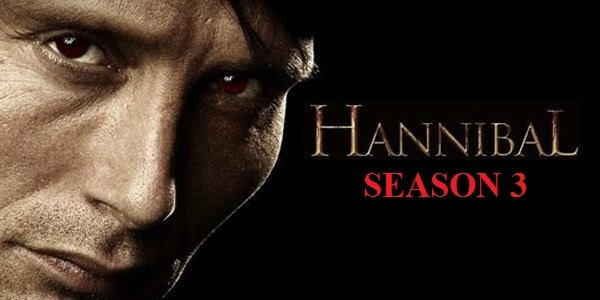 Hannibal, Season 3 will get underway on NBC Thursday, June 4th, at 9:00 p.m. ET/PT, and if you witnessed the killer Season 2 finale, then you're dying to see this… especially after the series was postponed to this summer!
There's a new promotional trailer for the show, which you can view here. Clocking in at just a minute, they trailer is jammed full of action and intrigue, not the least of which is Hannibal's recital of Dante Alighieri's "La Vita Nuova" sonnet, which translates to:
To every captive soul and gentle heart
into whose sight this present speech may come,
so that they might write its meaning for me,
greetings, in their lord's name, who is Love.
Already a third of the hours were almost past
of the time when all the stars were shining,
when Amor suddenly appeared to me
whose memory fills me with terror.
Joyfully Amor seemed to me to hold
my heart in his hand, and held in his arms
my lady wrapped in a cloth sleeping.
Then he woke her, and that burning heart
he fed to her reverently, she fearing,
afterwards he went not to be seen weeping.
Basically, Season 3 sees Hannibal on the run in Europe, aided by his psychiatrist Bedelia Du Maurier (Gillian Anderson), and being hunted by Will (Hugh Dancy), Jack (Laurence Fishburne), and Alana (Caroline Dhavernas). Judging from the trailer, it looks like the show might step out of the blanket of doom and despair while maintaining its sickening tone.
Don't forget to tune into one of TV's best shows on June 4th!
Rock Hard \m/