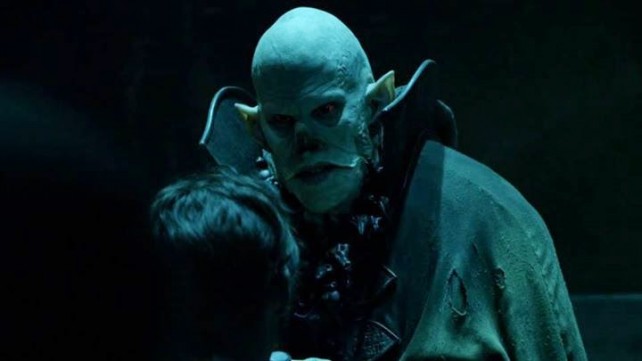 Television has been so great in recent years that it's a wonder that people still actually go to the theaters to watch movies. I'm being facetious, of course, but 2014 has been another fantastic year for the small screen, which is why we feel that it's about time that we do our first ever list of the best TV shows of the year.
Even though we limited our selections to genres that interest us and our faithful Yellers (i.e., horror, fantasy, and crime), it's still a tough crowd to choose from. Naturally, there have been some misses in 2014 (From Dusk Till Dawn, Sleepy Hollow, and Person of Interest, I'm lookin' at you), but the hits, man the hits just kept rolling.
As great as these series appear to the eye in terms of the cast and their skills as actors, we'd be remiss if we neglected to give a nod of appreciation to the source material (if there is any), to the directors, to the writers, to the special effects teams, to the set directors, and, well, to everyone else involved. No, we're not accepting an award… but you should award yourself the opportunity to give these shows a try.
How is a show that I cover on a weekly basis at the bottom of this list? As interesting as Bates Motel is, it plods along at a very leisurely pace. And while the show is still coming into its own, finding focus on Norman rather than his sensational mother, it still has growing pains, but there's huge potential, which its already begun to fill.
Synopsis:
Bates Motel is a contemporary prequel to the genre-defining film Psycho, and gives a portrayal of how Norman Bates' (Freddie Highmore) psyche unravels through his teenage years. Fans discover the dark, twisted backstory of Norman Bates and how deeply intricate his relationship with his mother, Norma (Vera Farmiga), truly is.
---
No.13 Constantine
To be honest and fair, I've only seen a couple Constantine episodes, but it looked very promising and I really liked what I saw, causing me to dog ear this one for later viewing. Call me what you will, but I actually liked the Keanu Reeves movie of the same name, based on the same graphic novels.
Synopsis:
A man struggling with his faith is haunted by the sins of his past but is suddenly thrust into the role of defending humanity from the gathering forces of darkness.
---
No.12 Penny Dreadful
This one is as fun to watch as it is visually arresting. An all-star cast leads this show as it weaves the tales of our favorite monster legends into a single web of intrigue and horror.
Synopsis:
Explorer Sir Malcolm Murray, American gunslinger Ethan Chandler, and others unite to combat supernatural threats in Victorian London.
---
No.11 Vikings
Synopsis:
The adventures of Ragnar Lothbrok: the greatest hero of his age. The series tells the saga of Ragnar's band of Viking brothers and his family as he rises to become King of the Viking tribes. As well as being a fearless warrior, Ragnar embodies the Norse traditions of devotion to the gods: legend has it that he was a direct descendant of Odin, the god of war and warriors.
---
No.10 American Horror Story
Honestly, this show is on this list more for second half of Season 3 than for the current Freak Show. Nonetheless, the series has an amazing concept: a different story each season with different characters played by the same actors, more or less.
Synopsis:
An anthology series that centers on different characters and locations, including a haunted house, an insane asylum, a witch coven, and a freak show.
---
Hannibal struggles with audiences and very nearly didn't get picked up for a third season. It's a dark, twisted, cerebral show, which might have something to do with its limited audience. The show can also be horrifyingly graphic in its depictions of violence and gore.
Synopsis:
Explores the early relationship between the renowned psychiatrist and his patient, a young FBI criminal profiler, who is haunted by his ability to empathize with serial killers.
---
No.8 True Detective
Another crime drama that, at times, is as disturbing as Hannibal, but with a distinctively different palette. What's more is the amazing performances turned in by Matthew McConaughey and Woody Harrelson.
Synopsis:
The lives of two detectives, Rust Cohle and Martin Hart, become entangled during a 17-year hunt for a serial killer in Louisiana.
---
Find out the next 7 shows on our list and our Number 1 pick after the jump…