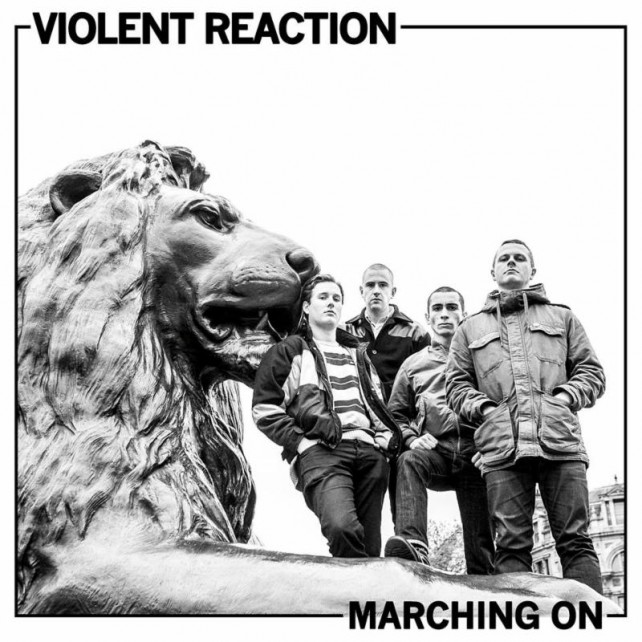 Violent Reaction will release their blistering sophomore LP, Marching On, this Tuesday, March 31st, via Revelation Records, but you can hear the album in its entirety right now over at BlowTheScene.com.
Rife with boisterous gang chants, pulsating energy and an overall exceptionally tight and aggressive attack, Violent Reaction incites unrest through classic hardcore/oi anthems in the spirit of Negative Approach, Blitz, The 4-Skins, Straight Ahead, and 86 Mentality, delivered through a wholly modern sound. Marching On is a 14-song tirade that is over in just 19 minutes, leaving the listener beaten, bloodied, and empowered to rise immediately back up, a prime example of why this band is unquestionably one of the top-tier acts of their scene.
The same day that Marching On is released, Violent Reaction brings their uprising back to the U.S., beginning an upcoming Northeastern American tour, with shows confirmed in Richmond, Philadelphia, New York, Boston, Rochester, Detroit, Chicago, Indianapolis, and Pittsburgh.
Marching On pre-orders are available through Revelation Records, including several merch bundles and colored vinyl options while they last. Check it out here.
Violent Reaction U.S. Tour Dates:
3/31/2015 Cafe Saint-Ex – Washington, DC w/ Public Suicide and Earth Girls
4/01/2015 TBA – Philadelphia, PA
4/02/2015 The Acheron – Brooklyn, NY
4/04/2015 HC Stadium – Boston, MA w/ Arms Race, No Tolerance, Chain Rank, Anarchy Boys (+ after party at the Boilerroom)
4/05/2015 The Bug Jar – Rochester, NY
4/06/2015 Refuge Skateshop – Detroit, MI
4/07/2015 Old Mt Happy – Chicago, IL
4/08/2015 TBA – Indianapolis, IN
4/09/2015 The Rock Bottom – Pittsburgh, PA
Rock Hard \m/