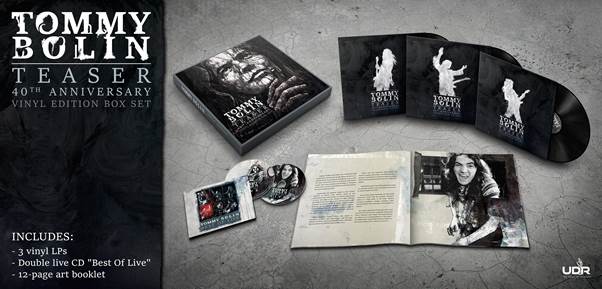 On May 19, 2015, UDR Music will release the 40th Anniversary Vinyl Edition Box Set of Tommy Bolin's solo album, Teaser. The release is a triple-vinyl set that features long-lost outtakes and alternative mixes from the original Teaser studio sessions, plus two live CDs with performances from Ebbets Field, The Northern Lights, My Father's Place, and Albany.
Tommy Bolin is recognized for his work with groups such as Zephyr, The James Gang, and Deep Purple, and remembered as a bright, young American guitar god who created a whirlwind with his loud, stylish, free-form fusion performances before his untimely death at the age of 25 in 1976. Released in 1975 during his time with Deep Purple, Teaser was the solo masterpiece and eventual cult-classic that Bolin never got the chance to properly promote.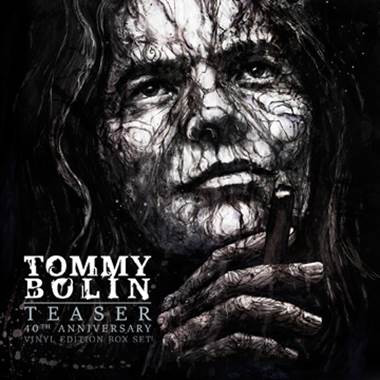 More About Tommy Bolin:
At the age of 17, Bolin formed Zephyr, whose blues rock was coated in psychedelic tendencies. Despite opening for the likes of Led Zeppelin and growing a strong fan-base, Bolin left the group in 1971 to form Energy (a jazz-rock project) before Joe Walsh recommended him to The James Gang, where he recorded the Bang! and Miami albums in 1973 and 1974, respectively. Bolin also appeared on legendary drummer Billy Cobham's Spectrum solo album, and his ability to enjoy (and make the grade with!) such improvisational jamming style sounds left Bolin as that rare bird. A man who could be a rock star or a man who could be a musician's musician at cafes across America.
Bolin moved to LA seeking confirmation of the stardom his enormous talents promised, and the foundations for the legendary Teaser album were laid. Featuring session musicians such as Glenn Hughes, David Sanborn, Jan Hammer, Stanley Sheldon, and Phil Collins, Teaser represents the fulcrum point of Tommy's solo-artist work. As he completed work on it, Deep Purple's Ritchie Blackmore quit the band, and Bolin was invited to join Purple by singer David Coverdale. Come Taste The Band came out towards the end of 1975, before Purple disbanded and left Bolin free to do his second album Private Eyes. Opening for Peter Frampton and Jeff Beck, Bolin was just starting to enjoy the sort of attention and recognition that would surly have seen him rise to the next level of revered guitar God. Sadly, Bolin's addiction issues would not allow it, and in 1976, he died at the tragically young age of 25.
Bolin's legacy is superbly reflected in Teaser 40th Anniversary Vinyl Edition Box Set – get your copy while they last!
Rock Hard \m/