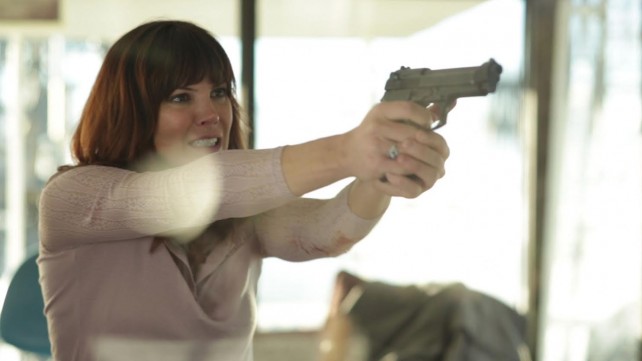 Director Rene Perez' The Burning Dead (formerly Volcano Zombies), starring action superstar Danny Trejo (Machete), arrives March 3rd, on digital and VOD from Uncork'd Entertainment. The DVD sears home video a month later, April 7th.
Written and produced by Jeff Miller and Jason Ancona, The Burning Dead pits a horde of lava-filled zombies against a sheriff charged with the plight to rescue an estranged family from a volcano eruption. Trejo plays Night Wolf, a Native American warrior who knows way too much about the curse that unearthed the coffin dodgers.
We spoke to one of the films heroines, Moniqua Plante, best known for her recurring role on TV's Nashville.
---
Thanks for taking the time to talk. Your schedule with Nashville must keep you pretty busy?
It has it's moments for sure! I've been back for a week now, so luckily I've had some catch up and downtime. I really feel so incredibly lucky, so no complaints here. In this industry, busy is good! It's been such a blast. Amazing cast and crew.
How does doing a TV show differ from film?
A TV show works pretty fast, an episode per week, but the story keeps evolving and changing. You never know exactly where it's going to take you as an actor. Which keeps it interesting and exciting for sure. Depending on the film, it can take months to tell the complete story or in some cases only a few days. But as an actor, you have the script, you know what needs to happen to get from point A to point B. There are variations on how the characters accomplish those beats emotionally and physically, but you know where the story begins and ends.
Is there one you prefer doing over the other?
I love both mediums. Quite honestly, if you're fortunate enough to be working consistently, they're both amazing mediums to work in. If you're fortunate enough to book a series regular role or a nice recurring part, you can have weeks, months, and even years to develop and work with a particular character and evolve with that character. In film, you have more opportunity to play a wider variety of characters, which is very tantalizing to an actor. Of course, if you're booking many different TV roles, that's the case in the TV genre as well.
Who is Mindy Roberts (in The Burning Dead) and what makes her tick?
She is smart and strong, and stubborn as hell, just like her father. She loves her family more than anything, but won't make the first move to patch things up with her father even though it pains her that they are estranged. She is, after all, just like her dad.
Does she have much interaction with Danny Trejo's character?
Unfortunately, not at all! I was so bummed!
Who is the real Danny Trejo – is he the tough guy we see on screens?
I've heard he's a totally cool cat. You'll have to ask the producers and Tom Downey for the inside scoop!
Real lava probably wasn't used for the movie, so what did you have to act scared of? A tennis ball on a string?
We didn't even have a tennis ball, or like in the Hulk movies, a Hulk face on a stick! Just good ol' imagination. I think that's why these movies are so much fun and difficult at the same time. Making it real and finding the truth in such crazy situations is where you find the good stuff.
Was the appeal of doing this one simply because it looked fun?
Absolutely. I've never done a zombie film, and who doesn't love a good campy fun zombie film! Plus, I really loved working with the creators, Jeff Miller and Jason Ancona. They were so open and collaborative. Tom Downey and the rest of the cast were so much fun and worked their tails off!
Can you talk about your one shot appearance on one of the best shows on TV, Banshee. Was that as fun to shoot as it is to watch?
That show is amazing to work on! The creator/writer, Jonathan Tropper, is truly a creative genius and if you met him, you'd never imagine this sick twisted dark story comes out of his brain. Great cast and I was able to work with a kick-ass director, Ole Christian Madsen.
Your bio also mentions you're a producer. What things are you producing?
I'm writing a feature-length comedy at the moment. My first foray into producing was a feature film, Beyond the Mat, a high school sports drama. I learned so much on that film, wore so many hats! The real labor of love was the short action thriller that followed, Pillow Talk, in which I also starred. Pillow Talk went on to win nine awards including three best actress awards, breakout action star, best action short, and best director. It is currently on ShortsTV as well as iTunes.