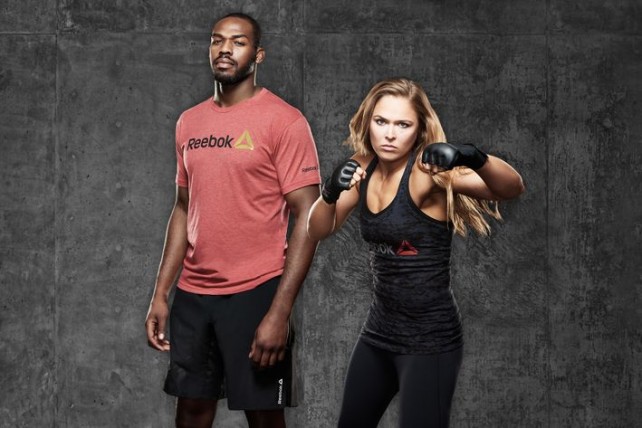 Two weeks after the UFC announced its "largest deal" ever with Reebok, top-tier stars such as Jon Jones and Ronda Rousey have now inked a deal with the apparel company to represent the brand. Both UFC champions will work closely with Reebok to help the company develop and launch the new UFC uniform, which is scheduled to roll out in early 2015. In addition, they will also help with a new collection of Reebok gear targeted for athletes who are in combat training.
In the press release, Rousey expressed her interest in working with Reebok. She believes it will help inspire people to train like MMA fighters:
From the very beginning, it was clear to me that Reebok is passionately invested in our sport and its athletes, the team is committed to helping push our sport forward and I am proud to be part of it. Reebok understands what tough fitness means for women and what women need for their fitness lifestyle. Together we're going to inspire even more people to train like fighters.
Jones is just as proud as Rousey about the deal:
Reebok is working with UFC to take the sport to the next level. It's going to be an amazing journey and I'm incredibly proud to be a part of it. The brand has a great history in fitness and training, and that comes through in everything they do. What I'm particularly excited about is that the input of the fighters is going to drive the product innovation, which will ensure all athletes, whether they are fighting for a world championship or just to be fit, will have the very best gear.
Others among the Reebok sponsorship in the UFC are Johny Hendricks and Anthony Pettis.