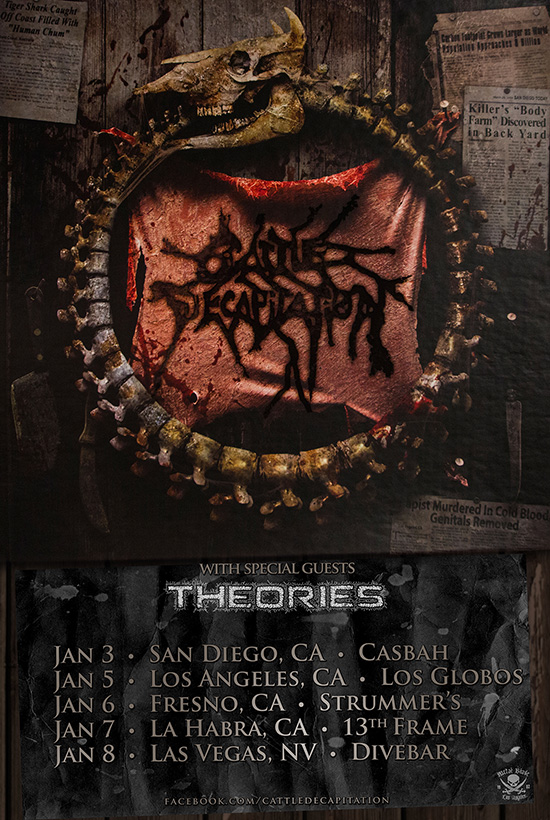 San Diego's Cattle Decapitation have spent the last two years promoting what has become the most well-received and critically acclaimed album of their career. Monolith of Inhumanity earned rave reviews and debuted at #177 on the Billboard Top 200 chart, which is no small feat for such a heavy act. To follow up the album, Cattle Decapitation will be returning to Dave Otero's Flatline Audio studio in Colorado. Otero was at the helm for both of the band's previous albums, and the collaboration promises to compound on the exercises in melodic extremity that have vaulted Cattle Decapitation to the top of the extreme metal heap. The band is giving fans one final chance to see them live, and to hear new songs, before they begin to track their upcoming album.
Vocalist Travis Ryan explains:
We've been hard at work on the new album for the past year and are currently writing the last song for it! Happy to announce we will be playing this string of shows with our friends Theories. After the shows, we'll spend five weeks recording the new album once again with Dave Otero! Don't miss these shows, we will be playing loads of new material at them!
Cattle Decapitation Final Monolith of Humanity Shows:
w/ Theories
01/03 San Diego, CA Cashbah
01/05 Los Angeles, CA Los Globos
01/06 Fresno, CA Strummer's
01/07 La Habra, CA 13th Frame
01/08 Las Vegas, NV Divebar
Rock Hard \m/