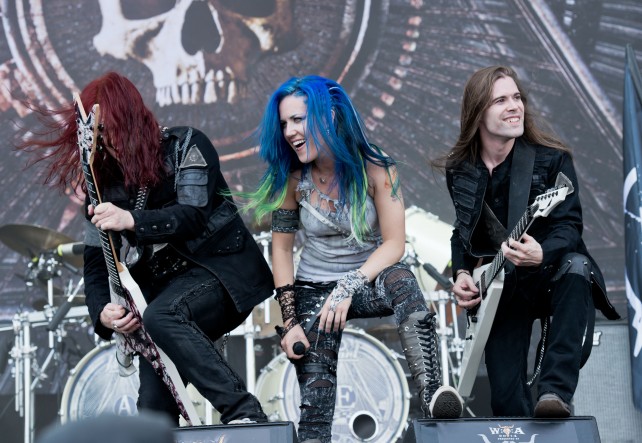 Arch Enemy has premiered their ferocious cover of Judas Priest's classic track, "Breaking the Law," over at RevolverMag.com. The track definitely has the Arch Enemy flavor, but it is an honest cover that's very true to the original. You would be forgiven for being skeptical about Arch Enemy taking on this song since Rob Halford's vocal style is, well, vastly different from Alissa White-Gluz'. But she owns her gutteral take on the vocals and delivers a very powerful rendition that's as melodic as the original.
Here's what guitarist Mike Amott said of the track:
When we do covers, we have a tendency to pick somewhat obscure songs. However, the iconic 'Breaking The Law' anthem by Judas Priest is anything but that, of course! This just started with a fun jam in the studio, and during the process we tried to make it sound as Arch Enemy as possible -– it turned out pretty f'n cool and here it is. Enjoy!
"Breaking the Law" was exclusive to the Japanese edition of the band's latest album, War Eternal. But no longer. Arch Enemy has made a limited-edition split 7-inch single with their current touring mates, Kreator. Side A of the single will contain "Breaking the Law" and Side B will have Kreator's "Iron Destiny."
If you want the split, you'll have to go to a show because it's only available at the merch table. Furthermore, only 500 copies of the exclusive transparent red vinyl record will be available during the North American tour. Fear not Europe; you'll have access to 500 copies of a dark red version when Arch Enemy heads your way after North America.
Let us know what you think of Arch Enemy's take on "Breaking the Law" in the comments section below.
Rock Hard \m/