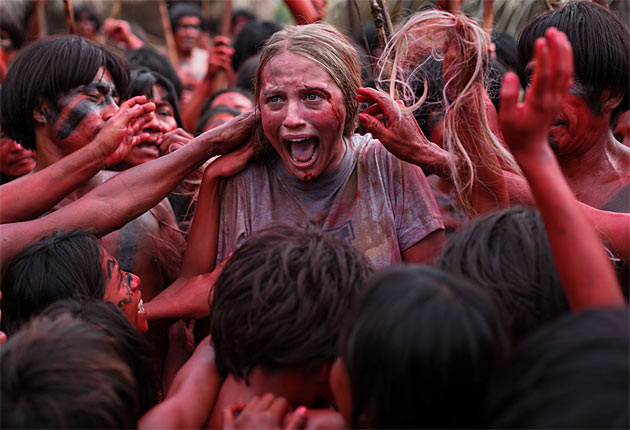 For those who really wanted to see The Green Inferno at the Fantasia Film Festival earlier this month and missed it, get ready to be disappointed yet again with the following update on the theatrical release of the movie. Eli Roth's fourth horror movie in six years, The Green Inferno, was originally scheduled to drop in theaters next month, on September 5th, but it's now off the menu.
Roth unveiled the breaking news via a report by Deadline, which claims The Green Inferno is pulled indefinitely from theaters because of an issue over marketing expenses. Apparently, Worldview Entertainment agreed to cover the expenses for publicity, however, that quickly changed after CEO Christopher Woodrow abruptly left the company in early June.
This happened because financier Worldview Entertainment is balking at ex-CEO Christopher Woodrow's commitment to provide the P&A [prints and advertising costs].
We [Worldview] just don't have the money to pay for the release.
Although, fans may never have the chance to see The Green Inferno in theaters, other solutions are being considered, like a possible straight-to-VOD release in the very near future.
We'll keep you updated when something more official is announced. In the meantime, watch the second trailer for the movie right below.
---
The Green Inferno Trailer #2
https://www.youtube.com/watch?v=B6fyb8vW6Y8