The deal hasn't been cast in stone yet, but Marvel is eager to strike a deal with horror director Scott Derrickson to helm Doctor Strange.
Famed for such films as The Exorcism of Emily Rose, The Day the Earth Stood Still, Sinister, and the just completed Deliver Us from Evil (due July 2nd), Derrickson is an attractive director to Hollywood because he has a reputation of delivering high-caliber, high-return movies within tight budget constraints. No doubt Marvel is looking at Derrickson to deliver the goods without needing to borrow money from a Colombian drug lord.
As part of Marvel's "phase two," Doctor Strange has been teased in a number of other comic book flicks, such as Thor and Captain America: The Winter Soldier.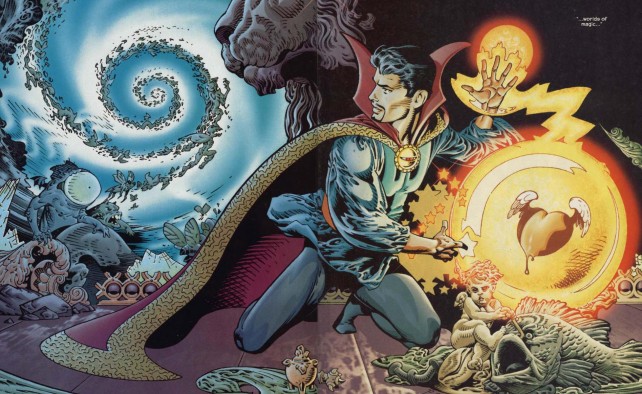 Doctor Strange will be produced by long-time fan of the comic book, Kevin Feige, and executive produced by Louis D'Esposito, Victoria Alonso, Alan Fine, Stan Lee, and Stephen Broussard. Obviously, this early in the game, no casting news has been reported.
According to IMDB, the Doctor Strange synopsis is as follows:
A subtly maimed surgeon finds a new life when a wizard trains him to become the new Sorcerer Supreme of Earth.
However, Variety has provided a better description, which is focused on the comic book itself, so how much of it makes its way into the film has yet to be determined:
The comic book revolved around a former neurosurgeon who serves as the 'Sorcerer Supreme' — the primary protector of Earth against magical and mystical threats. Strange made his first appearance in the 1963 comic book series Strange Tales and would go on to have his own comic book series and would appear in several other comic books that included The Fantastic Four, Spider-Man, and Nick Fury.
What do you think of the news of Scott Derrickson directing Doctor Strange? And who do you think should be cast in the titular role? As long as it's not freakin' Johnny Depp, all shall be fine… hopefully. In large part, the success or failure of Doctor Strange will rest on who stars.
Rock Hard \m/