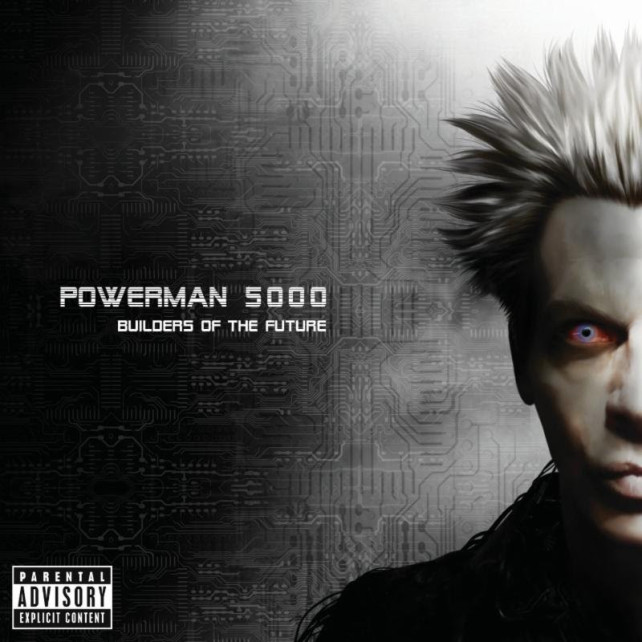 Remember these guys? Powerman 5000? They had a breakthrough album back in 1999 called Tonight the Stars Revolt!, which contained some pretty big hits like "When Worlds Collide," "Nobody's Real," "Supernova Goes Pop," and "Tonight the Stars Revolt!" After that Platinum-selling album, the band all but fell off the face of the Earth. And considering their penchant for sci-fi and horror themes, they probably didn't mind floating through space and limbo.
Powerman 5000, or as we used to call them back in the day, PM5K, didn't fall off planet Earth and they didn't abandon the music business; through various shifts in the lineup, they've managed to release an album every three years or so. And on May 27th, they'll be back with a new collection of sci-fi electric rock anthems for you to wrap your pretty little head around.
The new album, Builders of the Future, comes at us via T-Boy Records/UMe, home to Rob Zombie's Venomous Rat Regeneration Vendor, Megadeth's Super Collider, and the self-titled debut album from Kobra and the Lotus.
Founding member and Rob Zombie's little brother, Spider One, stated about the new PM5K album:
I never would have imagined that after all the albums, the band members, the ups-and-downs of the always changing music business, I'd still be here doing this, which is thanks to our most diehard fans.

We've re-planted our flag as the weird, sci-fi, electronic band. This is what we are. This is what we do best. This is clearly what people like from us the most, too. So I'm going to love it like they love it. We're back. The fanbase has really rallied around us again. The enthusiasm feels like it's picked right up from the year 2000. The electronic-metal-dance thing, we've locked it down once and for all with this one.
Builders of the Future Track List:
1. Invade, Destroy, Repeat
2. We Want It All
3. How to Be a Human
4. You're Gonna Love It, if You like It or Not
5. Builders of the Future
6. I Want to Kill You
7. Modern World
8. Live It up before You're Dead
9. I Can't F-cking Hear You
10. Evil World
Builders of the Future can be pre-ordered now on Amazon: CD – $14.89 or MP3 – $9.49
Rock Hard \m/