On April 25th, at The Rave in Milwaukee, Wisconsin, I went to see Black Label Society in concert for the 4th time in my Heavy Metal life. The simple truth is that Zakk Wylde and company never cease to amaze me each and every time. Why? Because the power, engergy, and professionalism they put into their shows is first-rate.
While I was a bit shocked to see the Butcher Babies in the lineup instead of Phil Anselmo and Down, who was on the concert bill, the evening's show was amazing overall. It was Heavy Metal up and down and through and through, with great performances from the Butcher Babies, Devil You Know, and, of course, Black Label Society.
Butcher Babies: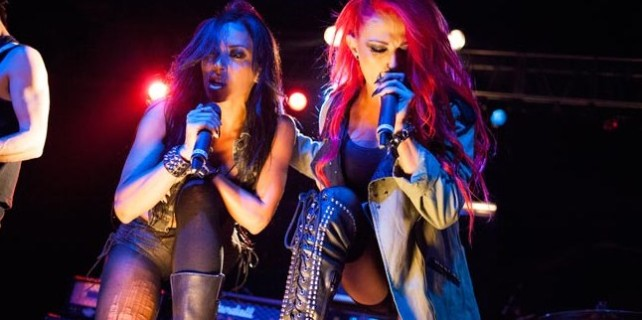 I've heard of them before, but I've never actually heard them. I knew that they divided Metal fans into about three categories: like 'em, hate 'em, or meh. Anyways, Butcher Babies put on a pretty good show. The one thing that really hurt the performance was the vocals. They didn't seem to add up to the music, and it seemed as if they were off on a beat or 2… or 6. Who knows? It could have just been a bad night. They had big shoes to fill and they went out there and rocked it.
Devil You Know:


Howard Jones, formerly of Killswitch Engage, kept the metal going. Devil You Know's set list was mostly comprised of songs from their debut album, The Beauty of Destruction, which just came out on April 25th. They rocked it pretty well. One thing I remember is Howard Jones looking into the crowd and saying, "I'm looking into the crowd and i see all these fucking beards." I sense good vibes from this band and I sense they will go far in the world of Metal.
Black Label Society:

Closing out the night was my idol, Zakk Wylde and Black Label Society. As mentioned earlier, this was my fourth time seeing them in concert, in two different countries as well. BLS holds a dear spot in my heart and to see them constantly pouring everything they got into their performances each and every year just makes me feel warm and toasty inside. BLS opened with "My Dying Time," which we brought to your attention when it debuted about a month or so ago.
The crowd was clearly stoked to see these Metal Goliath, and BLS went on to play some of their favorite jams: "Godspeed Hellbound" from Order of the Black, "Destruction Overdrive" and "Blessed Hellride" from Blessed Hellride, "The Rose Petalled Garden" from their debut album, Sonic Brew, and a few more before ending with "Suicide Messiah" and "Stillborn." Not to mention there was the nine minute guitar solo from Zakk. He's got some mad skills.
If you haven't seen BLS ever, or just once, maybe twice… you seriously need to see them a third, fourth, or ninth time. I'm all for it and I will be doing it all again in a few short weeks.