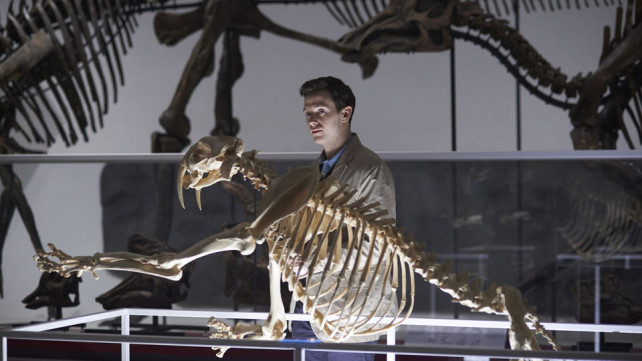 I'm still undecided about how I feel about the "Shiizakana" episode of Hannibal. On the one hand I feel like it was a complete waste of time because it didn't tell us anything that we didn't already know, or we didn't already suspect. On the other hand our suspicions had to be confirmed to advance the story (i.e., Will Graham's character). Sure the writers could have told it differently, without leaning on the episodic killer crutch, but then we'd have missed out on a pretty awesome character.
Thematically, the episode was lacking, although the outcome looks very interesting. Visually, it was visceral, maybe the most we've seen in the entire series. How awesome is it, really, to have a serial killer so obsessed with teeth that he designs and builds a pneumatic suit that give him animal-like agility and speed, and the ability and power to tear his victims to shreds with the teeth and jaws of various animals, some of which are prehistoric?
But this killer, Randall Tier, is the embodiment of the thematic metaphor of the episode, which Hannibal spells out at the start: "Must I denounce myself a monster, while you still refuse to see the one growing inside you?" Monster, animal, whatever you want to call it, the point that his hammered upon throughout the episode is that there's a fine line between us as civilized humans and our animal instincts. At Hannibal's urging, Graham is getting closer to his animalistic characters.
Throughout the episode, Hannibal's great manipulation is revealed, the one in which he "treats" his patients by turning them into killers. Randall was a former patient, and Hannibal praises him for how far he's come, Margot questions Graham about Hannibal's methods (and even confronts Hannibal himself) at the same time revealing that Hannibal encouraged her to kill, and Graham reveals to Hannibal that Hannibal's former therapist, Dr. Bedelia Du Maurier, said that she believes him because he wasn't the only one.
By the end of the episode Hannibal has encouraged Randall to attack Graham. Standing by Randall's side in the woods outside Graham's home, Hannibal states that he's there for support and "You're becoming Randall, and this beast is your higher self. Your bodies, voices and will are one. Revel in what you are" — but are these words really meant for Graham?
When Randall does attack, Graham gets the upperhand (offscreen) and delivers a vanquished Randall to Hannibal, stating that they're "even Steven."
Now, this is a bit of cheating, but in the preview for next week's episode we hear Graham saying how much he enjoyed killing Randall. I find this a bit disappointing. Understanding that Hannibal will "survive," because this is a prequel series, I still want Graham to be good. I want him to win this battle of intellect and manipulation with Hannibal. I want Hannibal to get his just deserts.
Who knows? Maybe the preview clip doesn't tell the whole story, and Graham is still going to be everything I hope for.
Odds and ends:
-Hannibal has a perfect out for not discussing Graham with Crawford by being his therapist and no longer on the FBI's payroll.
-When Hannibal explores Graham's feelings when the latter tried to kill the former, Graham still visualizes Hannibal as the black stag, but when Graham recreates the crime scene, he sees himself as the black stag — a nice subtle shift in perspective.
-Of course we can't have an episode in which Hannibal doesn't serve up some nice human meat to an appreciative Crawford.
-I loved the parallel Graham makes between the beast killer (Randall) and Hannibal's killing practices: "He wants to maul… They're just meat to him, prey."
-Peter Bernardorne, the animal whisperer.
-"What kind of psychiatrist are you?"
-"If at first you don't succeed, try, try again."
Rock Hard \m/