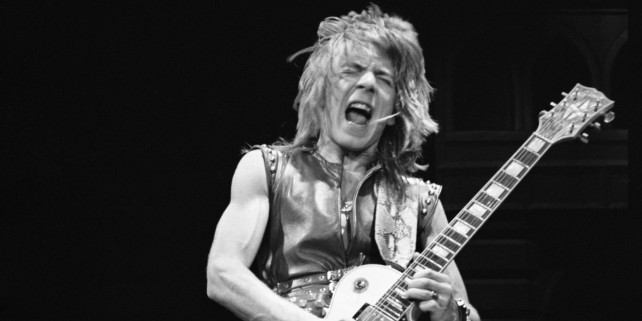 The Blizzard of Ozz might be the most important album in Ozzy Osbourne's solo career, simply for the fact that it was his first after Black Sabbath. The album also showcased Ozzy's new guitarist, the highly esteemed and late Randy Rhoads. Yesterday, March 19th, was the anniversary of Rhoads' death. Tragically, he died at a very young 25 years of age in a plane accident while on tour with Ozzy. He was definitely making a name for himself as one of the greatest heavy metal guitarists, combining neo-classical and metal to create something far reaching. Who knows what he would have accomplished if he'd lived, maybe metal wouldn't be considered a second-rate form of music today.
In honor of Rhoads' death, former bandmate and Ozzy bassist Bob Daisley posted an interview about and sound clips from the Blizzard of Ozz recording sessions, which he's calling "The Holy Grail." In the recordings, which took place between December 8, 1979 and March 23, 1981, we get to hear some alternate guitar work from Rhoads and some rough cuts of songs.
Check out the recordings at: www.bobdaisley.com
Daisley also discusses the song writing process, why things were recorded, who contributed what, and where some parts ended up in other songs.
Rock Hard \m/