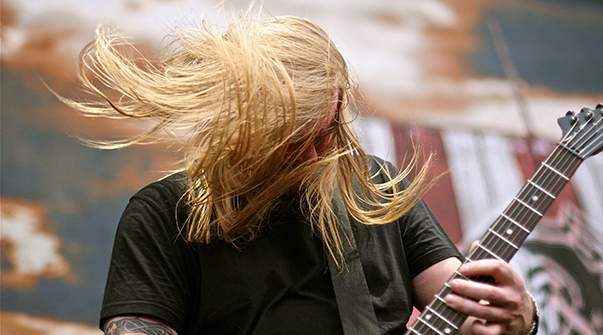 If you've never seen Amon Amarth live, then you Sir/Ma'am need to get off your ass and get to one of their shows. Only problem is that their latest tour is completed. There's always next time, so just take a mental note to go next time they pass by your town. Well not to brag or anything, but I did go see Amon Amarth on their recent tour through North America, and before I start my review of their show, I invite you to check out the interview I had with Olavi Mikkonen, lead guitarist of Amon Amarth:
Amon Amarth played 24 shows in just 2 months, with support from Skeletonwitch and Enslaved, both of which definitely kicked some ass. Before anyone took the stage at the House of Blues Chicago, however, the venue played the 10-minute long "Father of the Wolf" music video, which may have sufficiently warmed up the crowd as fans headbanged and chanted for some more metal.
Amon Amarth's set opened with the "Father of the Wolf" video, which only played until the part when the music kicks in, at which point Amon burst onto the stage to play the song. The crowd erupted as they got to see the viking warriors bring us some of the heaviest metal from Sweden. Amon Amarth ripped through a set that included "Deceiver of the Gods," "Runes to my Memory," "Warriors of the North," "Cry of the Blackbirds," "Twilight of the Thunder God," and "Pursuit of Vikings."
The crowd participation couldn't have been any better either. And watching people bounce to "Runes to my Memory" and "Pursuit of Vikings" was just priceless. One fan had made himself a Viking wristband and somehow talked the security into letting him walk up to the stage and hand it to Johan Hegg, lead vocals, which was a metal moment for that fan. Johan thanked him and said, "thanks man, I have 4 of these." I'm sure he was still thankful though. There was an interesting part when Johan was mentioning his plan of eating at Kuma's Corner, which is one of my favorite burger joints in West Chicago. Most of their burgers are all named after metal bands.
During their encore, they got us really yelling with a little contest of noise only for them to ultimately start playing "Twilight of the Thunder God," followed by "Pursuit of Vikings." Right before they started with "Pursuit," Johan asked where everyone was from, only to say, "It doesn't matter where you're from, you're all vikings!" When everyone heard that opening riff, they knew exactly what song was playing. All in all, this was an amazing gig and I would definitely see them again. If you get the chance, I highly encourage you to go.