Metallica's Kirk Hammett is a known horror fan. More than a fan actually — the man is obsessed. As a result we have the inaugural Kirk von Hammett's Fear FestEvil. The three-day event (running from February 6th to February 8th) will be held at The Regency Ballroom in San Francisco, California, and will have a shit-ton for horror and music fans to do.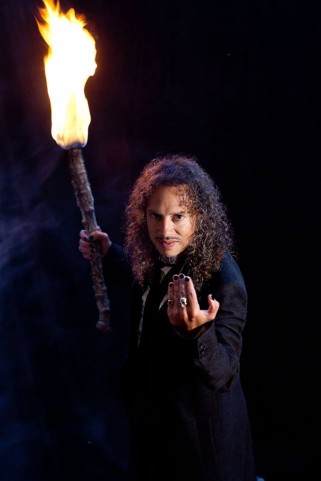 Hammett moving on to a full-blown fest makes sense. The man has released a book, Too Much Horror Business, and his Kirk's Crypt (a showcase for his extensive horror collection) has been a running attraction at the last couple of Orion Fests.
Kirk von Hammett's Fear FestEvil will feature the following:
Bands: Carcass, Death Angel, Orchid, Death Vision
Signings: Haruo Nakajima, Satosh "Bin" Furuya, Tom Savini, John Russo, Barbara Crampton, Patty Mullen, Amy Nicoletto, P.J. Soles, Scott Ian, Ron Chaney
Booth Appearances: Amy Nicoletto, Carcass
Panels: Greg Nicotero, Slash, Scott Ian & Joel Harlow, Rich Correll, Kevin Clement, Sara Karloff, Ron Chaney Jr., Bela Lugosi Jr.
Visit fearfestevil.com for additional details.
With Carcass on board to perform at the FestEvil, it was natural that FestEvil's official site premiere the band's first music video in 20 years. The video is for the track "Unfit for Human Consumption," which comes from the album Surgical Steel. The video can be seen in the player above, and you should really take the time to watch it; it has some of the coolest visuals I've seen in some time.