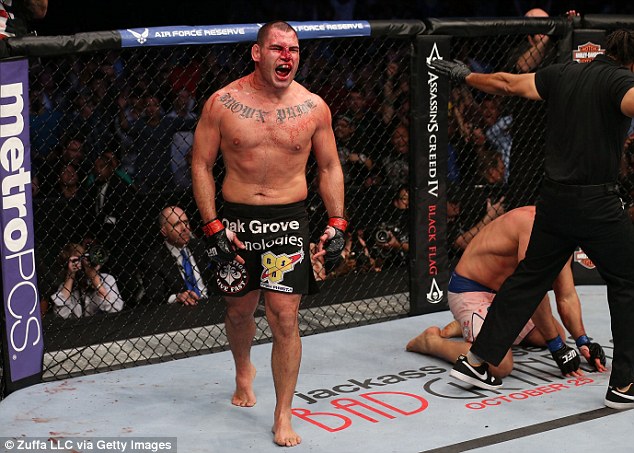 Wow! Epic fight after epic fight at the Toyota Center in Houston, Texas, last night. If you missed it, I highly encourage you watch the entire replay of UFC 166: Velasquez vs. dos Santos III because all the bouts starting from the prelims to the main event were awesome.
Guys, history was made right here. The bloody war between UFC lightweights, Gilbert Melendez and Diego Sanchez alone was worth the ticket price alone. It's a shame this fight didn't have the championship rounds. Afterward, I found new respect for Sanchez, a former TUF winner and a true people's champion, for giving it all in the third round. At the post-fighter presser, both guys picked up a hefty $60,000 Fight of The Night bonus award.
As for the main event, it turned out exactly how most people predicted. Velasquez dominated dos Santos just like he did at UFC 155. At the beginning of the first round, dos Santos landed nice clean shots to the head, but Cain soon managed to avoid them by closing the distances and pushing dos Santos up against the fence in every round. Velasquez was able to score a few takedowns and once again prove his skills are superior to the ones of dos Santos, both standing and on the ground. Referee Herb Dean finally stopped the fight in the fifth round at 3:09, and Velasquez won via TKO finish.
Below are all the results for UFC 166, check them out!
---
UFC 166 Main Event
Heavyweight Cain Velasquez (c) def. Junior dos Santos TKO (strikes)
Heavyweight Daniel Cormier def. Roy Nelson Decision (unanimous)
Lightweight Gilbert Melendez def. Diego Sanchez Decision (unanimous)
Heavyweight Gabriel Gonzaga def. Shawn Jordan TKO (punches)
Flyweight John Dodson def. Darrell Montague KO (punches)
Preliminary card (Fox Sports 1)
Middleweight Tim Boetsch def. C.B. Dollaway Decision (split)
Welterweight Hector Lombard def. Nate Marquardt KO (punches)
Women's Bantamweight Jessica Eye def. Sarah Kaufman Decision (split)
Lightweight KJ Noons def. George Sotiropoulos Decision (unanimous)
Preliminary card (Facebook/Youtube)
Welterweight Adlan Amagov def. TJ Waldburger KO (punches)
Lightweight Tony Ferguson def. Mike Rio Submission (d'arce choke)
Catchweight Andre Fili def. Jeremy Larsen TKO (punches)
Bantamweight Kyoji Horiguchi def. Dustin Pague TKO (punches)
---
Bonus Awards ($60,000)
Fight of The Night: Gilbert Melendez vs. Diego Sanchez
Knockout of The Night: John Dodson
Submission of the Night: Tony Ferguson