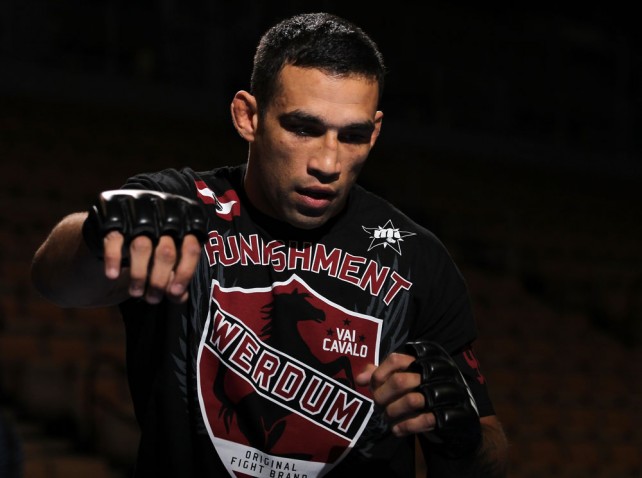 In his return since UFC 90, two-time Brazilian jiu-jitsu World Champion Fabricio Werdum (17-5-1) made a beautiful comeback in the UFC when he defeated Roy Nelson at UFC 143. He went on to beat Mike Russow by TKO and Antônio Rodrigo Nogueira with a tight armbar in the second round on the Fuel TV card in June. It marks three consecutive and impressive wins for the submission specialist inside the Octagon. Now, Werdum is looking to add another UFC win under his pro MMA career, and hopes to have the heavyweight strap around his waist someday soon.
Unfortunately, Werdum won't be exchanging leather this year, he confirmed with MMA Fighting:
I had a meeting with Dana White and the first thing he asked me was if I wanted to fight one more time or wait to fight for the title. I didn't even think twice. I've waited for this opportunity for years. I will have to stay away from the Octagon for more time, but that's not a problem. I will have more time to focus and train. I'm back to school. I always look at the bright side.
UFC President Dana White revealed that Werdum is the man next in line for a shot at the heavyweight title, and will face the winner between UFC Heavyweight Champion Cain Velasquez (12-1) and Junior dos Santos (16-2), slated for UFC 166 on October 19, 2013. That fight is going down in over two weeks, so the answer to this question will be determined soon enough. But Werdum is already eyeing "Cigano" for a rematch because he wants to avenge his loss at UFC 90, which terminated his contract with the Zuffa owned banner.
Nothing against 'Cigano', but I want this rematch. I thought I was the man at that time. I want to fight him again not because of him, but to prove to myself that I can beat him when I do things right.
If Velasquez wins the bout at UFC 166, then Werdum would also be in favor for another season of TUF in Mexico with Velasquez. Werdum believes his "game matches with Velasquez'" and wouldn't be opposed to fighting him standing in Mexico or Las Vegas.