Rampages are fun! Let's be honest: can any of you claim that you've never once thought about storming your workplace while wielding a Nerf assault rifle and sporting a Viagra-powered Viking erection to strike fear into the hearts of the wicked? Hell, that's a daily event here at the Yell! Magazine offices. We take bets on whose schlong will next batter down the front doors. (On a side note, some of the less… Nordic people around here need to stop trying. Seriously, guys! Mr. Happy is going to yield long before the door does.)
In the spirit on wanton destruction, here is Yell! Magazine's list of the Top 10 One-Man Rampages, presented by your ever-faithful chronicler: TheMatt, freshly returned from the abyss of the Holiday season at his other, retail-oriented job. Total body count for this year's Christmas season: a meager 17. More carnage would have been possible if not for all the mother's throwing their more disposable children in my path as ankle-biting delay tactics. I promise to do better next year. I'm taking a correspondence course in senior citizen defenestration, should up my totals somewhat.
ANYWAY! THE LIST! READ OR FACE MY WRATH!
No.10 The Bride: Kill Bill
TOTAL BODY COUNT: 88 OR SO, DEPENDING ON HOW MANY BLEED OUT LATER ON
Quentin Tarantino's homage to the chop-socky Kung-Fu movies of yesteryear features one of the few truly memorable rampages undertaken by the fairer, gentler, more maternal sex.
Uma Thurman stars as The Bride, and judging from the Katana she's wielding the honeymoon is destined to be interesting. And quite possibly fatal. But, it's Uma, so I'd totally be willing to risk the fatal pressure point, explody-heart technique. Standing between her and sweet, sweet revenge is a gang of 88 sword-wielding maniacs in matching black suits and Kato masks. What's a sweet girl to do? Bake some cookies and talk it out while singing Kumbaya?
Nah, just kidding! This shit happens. And this is the colorized, uncensored version. Not the crappy black and white version audiences first saw in theaters. Because if you can't enjoy colorized arterial blood spray, what's the point? That's like nailing a huge-tittied porn star and having her keep a bag over her head the whole time.

Disclaimer: Bag over head may be a blessing in some cases.
---
No.9 Jean-Claude Van Damme: Hard Target
TOTAL BODY COUNT: TOTAL BODY COUNT: COUNTLESS MARDIS GRAS FLOATS AND A MUMMY
Oh sure, I could have included any number of Jon Woo movies on this list. The hospital massacre from Hard Boiled? Been there, done that. The church shootout in The Killer? Neat, but that's more a duo than a solo. So why be predictable? Predictability is like me showing up at the office costume party wearing a straightjacket. Sure, maybe I'm dressed for the party but maybe it's just Tuesday. In any case, here is Jean-Claude Van Damme in Woo's American debut, Hard Target. The rampage starts around the 2:30 mark.
Chance Boudreaux (snicker!) is caught with his back against the wall in an abandoned Mardis Gras storage facility by a gang of thrill killers seeking to add his head to their collection of murdered hobos and vagrants. Luckily for Chance the bad guys haven't counted on his secret weapon!
No! It's his intimate knowledge of the terrain and superior skills at performing the splits that win the day! Just like in every other Van Damme movie ever made. OK, Hard Target is nowhere near the top of Woo's oeuvre, but it's hard to argue that the climactic action sequence doesn't deserve a spot on this list. Plus, JCVD goes up against Lance Henriksen (Aliens) and Arnold Vosloo (The Mummy) in a testosterone-fueled showdown. What's not to like?
---
No.8 Dae-su Oh and Hammer: Oldboy
TOTAL BODY COUNT: A DOZEN EXCEDRIN HEADACHES
Getting imprisoned for 15 years with no contact with the outside world can wreck havoc with your disposition. Trust me, I know. It happens to me all the time and the first thing I do when I'm released is roshambo the very first nun I spot. As an aside, I may or may not completely grasp the concept of roshambo. Anyway, our hero, Dae-su Oh, has just been set free from the one-room apartment he's been trapped in for the last 15 years. He's understandably pissed. He also has a ball-peen hammer and no shortage of fools willing to act as nail substitutes. And so…
It's a good thing the assembled bad guys follow the usual villain rules of engagement for this scene: approach the hero one at a time instead of piling on top of him until he cries uncle. In fact, a lot of the one-man rampages on this list would have ended quite differently if the bad guys had simply rushed the main character and drowned him in bodies.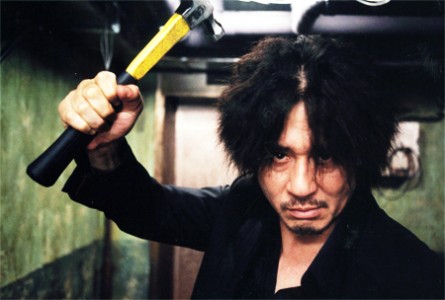 Obviously, I'd wait until everybody else had gone first. I mean, look at this crazy asshole!
---
No.7 Tony Jaa: The Protector
TOTAL BODY COUNT: THE REAL VICTIMS HERE ARE THE WIDOWS OF ALL THOSE POOR STUNTMEN
Tony Jaa is known for two things: outrageous and fully noncomputer-enhanced, bone-breaking fight scenes and his love of elephants.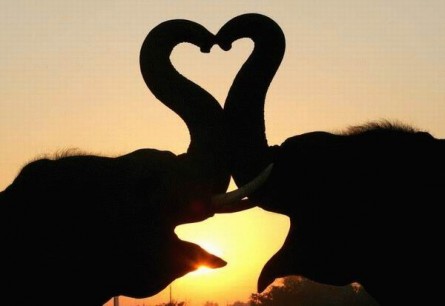 I typed "elephant love" in Google's picture search and this was the only SFW picture I could find.
No worries, your eyes need not fear the sight of exposed and erect elephant trunks on this site, we cater to a family audience. What kind of family is another matter altogether. For the purposes of this article, we'll focus exclusively on Jaa's seeming addiction to kicking the ever-loving crapola out of every stuntman to ever look at him cross-eyed. Don't believe me? I would like to enter in evidence Exhibit A!
Jaa skyrockets the insurance premiums of a dozen stuntmen singlehandedly in this one uncut sequence. I would also like to point out that everybody in Thailand is insane. (Editor's note: Yell! Magazine does not think that everybody in Thailand is insane. We quite enjoy your fine country and partake in your ladyboys quite often. Much love, Yell! Magazine.)
---
No.6 Jet Li: Fist of Legend
TOTAL BODY COUNT: NOW THERE'S ONE CHUBBY THAT WILL NEVER CHUB AGAIN!
Jet Li had to be on this list. He's earned his spot by making one-man rampages a trademark of his movies. Whether it's in The One, Kiss Of The Dragon, or several other choice selections, the man simply enjoys mercilessly beating countless opponent's faces with the soles of his shoes. Or with any appendage of his choosing, he's nothing if not diverse in his choice of rampages weaponry.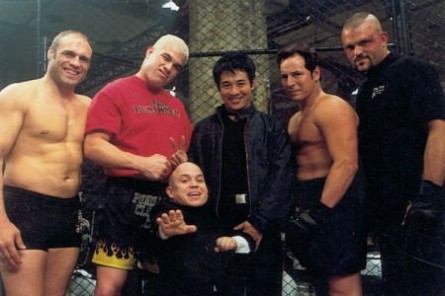 Here he is preparing to beat the hell out of those guys using only a midget.
So with such a wide variety of Li-fueled rampages to pick from, which movie best exemplifies his determination to humiliate as many opponents as possible in a single outing? Why, we here at Yell! Magazine believe that the fatal groin removal at the 1:55 mark in the following clip puts Fist Of Legend over the top. Granted, we here at Yell! are biased toward anything groin related. We blame our mothers and so should you. Mothers are responsible for all the evil in the world. It's a scientific fact backed by science.
Find out which one-man movie rampage ranked in at the number one spot on the next jump…