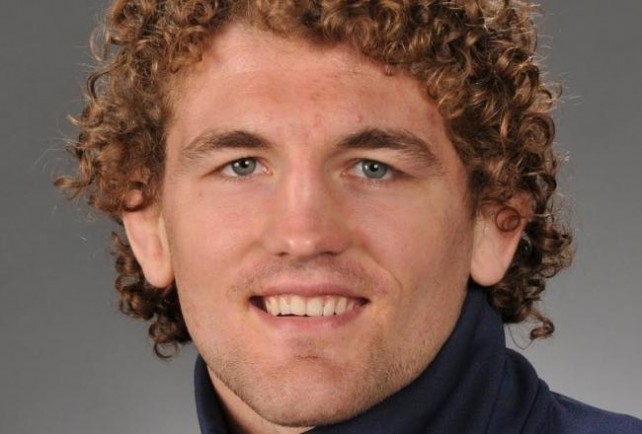 You might have heard from Dana White that the UFC is interested in signing Bellator Welterweight Champion Ben Askren, who is known for his effective wrestling but boring fights in Bellator. White previously said that Askren is "the most boring fighter in MMA history. I would rather watch flies fuck." But White's opinion about Askren may have changed as of late. Askren's last fight in Bellator was with tournament winner Andrey Koreshkov; Askren dominated Koreshkov in every round, winning by TKO in the 4th. With nine consecutive wins, it's clear that Bellator doesn't have a fighter in the welterweight division that could give the former Olympian a decent challenge.
Askren is now a free agent and has showed signs to fight inside the Octagon over Bellator. You'll know exactly what I mean If you follow his official Twitter account — it's nothing but UFC tweets. At any moment, Askren is ready to pick up a call from the UFC, he recently tweeted to White.
@danawhite hey if @JohnyHendricks gets hurt for November just let me know I'm ready 🙂

— Ben Askren (@Benaskren) August 21, 2013
In addition, Bellator CEO Bjorn Rebney shows no interests in re-signing him with his company, and wants to speed up the process so he can go fight in the UFC, and possibly face welterweight champion Georges St-Pierre one day.
I don't think we're going to make an offer at this point, so I don't see any reason to make anybody sit out. If Ben's going to go to the UFC, we should speed up that process so he can go fight. I'd love to see Ben versus GSP. If the UFC does make an offer, we'll take a look at it and move on from there. We haven't been proactive yet. I have nothing but good things to say about Ben as a fighter, but we're all very aware of how he fights and what he does — it's not for everyone.
If his MMA career continues with the UFC, you can also expect a fight with Michael Bisping to happen since they've had a Twitter war in the past.