Well, well, well, look what we have here. Another video game franchise from the past that is on its way to be resurrected from the dead, just like Duke Nukem and Syndicate. But, this isn't the first we've heard about Carmageddon: Reincarnation; it already has a website with tons of concept art available to look at, and boy do the 3-D renders bring back good old memories. I remember playing Carmageddon for hours on my 486, and thinking what games will be like in the future. It's definitely a leap now from that time, and I surely hope Reincarnation will get a solid modern treatment that could possibly blow the doors off Sony's Twisted Metal.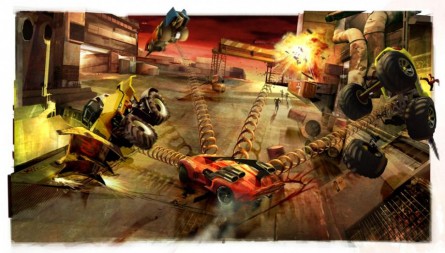 Last year, the series developer Stainless Games went on a mission to raise funds for Carmageddon: Reincarnation. They succeed and banked in $625,143 on June 6, 2012, through the initial Kickstarter campaign. Although that is a nice sum of money, it's clear the developers need more of it to meet today's standard. Fortunately, Les Edgar, founder of Bullfrog Productions just invested an additional 3.5 million into the vehicular mayhem game.
The announcement came directly from Stainless Games today:
"We are delighted to have fully funded Carmageddon: Reincarnation without having to go outside of the collective of our own company, shareholders, and fans," Stainless Games CEO Patrick Buckland said in a statement. "It allows us to maintain a true independence and creative control whilst not having to compromise quality or content by budgetary constraints."
Carmageddon: Reincarnation is currently slated to launch in December 2013, and with an investment like that we can expect it to be developed on next-gen platforms. However, nothing has been confirmed yet.