Yell! Magazine Review: Cancer Bats: Dead Set on Living
Hardcore punk bands can be a dime a dozen, each one with a single stand out track. And seeing any old generic hardcore punk band live can be like seeing a band play the same song six or seven times before they play that one standout track. Each album could theoretically be titled: "Generic Hardcore Punk Band: More of the Same."
Cancer Bats are not like that. Kicking off the Dead Set on Living is "R.A.T.S.," which has a nice 35-second intro that sounds like an air-raid siren warning of the incoming destruction. It builds nicely into a hardcore soundtrack to smash skulls to. It's catchy, heavy, and Liam Cormier's shouty, screamy vocal complements the southern Downesque mix nicely.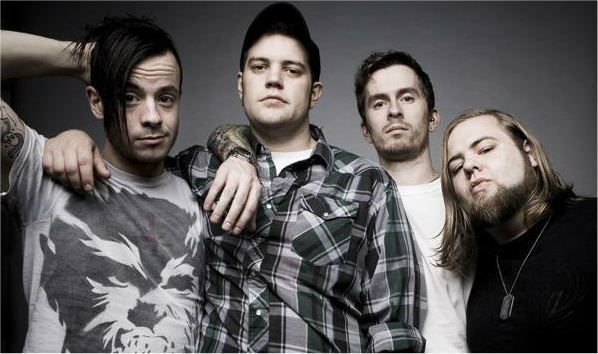 The vocal hook on the chorus, "There's a special place in hell for people like you," lets us know what we're in for: non-stop dirty, sludgy, doom rock. It's a mixture of thrash, hardcore punk, and southern metal – and when it's done like this, the mix is perfect.
Not content with redoing the same thing over and over again after eight years in the business, Cancer Bats said that they wanted to create an album that was more upbeat than their previous outings. Even bringing in influences you don't normally associate with hardcore punk (including folk bands). The result of their desire: Dead Set on Living – and it's awesome. Mixing spoken word with screaming on "Bricks and Mortar," Cormier sounds like Phil Anselmo's evil cousin.
"Road Sick" opens with a more attention-grabbing riff and serves as a back-to-school tutorial on how to do hardcore. This one is a dead cert follow-up single. Throughout Dead Set on Living, each song feels like it's building up to something bigger and heavier; however, each song also stands out on its own merits, it keeps you listening. If you saw Cancer Bats live (which if you haven't, you should), you wouldn't be waiting for their stand out track, you'd consider yourself lucky to be there.
Cancer Bats – "Road Sick"
Each track on Dead Set on Living is a standout gem. You can hear influences from Black Sabbath on the intro to "The Void," and the title track, "Dead Set on Living," has elements of Pantera in there, and then the heavy distorted bass on "Old Blood" really drives things along nicely. "Bastards," featuring guest vocals from DevilDriver's Dez Fafara, sounds like "You think I Ain't Worth A Dollar But I Feel Like A Millionaire" by Queens of the Stone Age, only on much better drugs. While you can hear the obvious musical influences in there, it's what the band does with those influences to make a sound that's uniquely their own.
Closing with "New World Alliance," Cormier's vocals show off more versatility and it's a real stoner, apocalyptic classic in the making. If Cancer Bats are playing at a festival you're going to this year, DON'T MISS THEM!!!
The Verdict: [rating:3]
Like the old Cancer Bats, only better. The bar has officially been raised.
Yell! Rating (x/5 Skulls):

[rating:3]

Artist

Cancer Bats

Album:

Dead Set On Living

Year Released:

17 April 2012

Label:

Distort

Genre

Hardcore Punk, Sludge Metal

Official URL: