Beast Incarnate, the impending new long player from Malta-based brutal death metal merchants, Beheaded, will see release tomorrow, January 27, 2017, via Unique Leader. In advance of its release, NoCleanSinging.com is streaming the infernal, eight-track offering in full noting, "the obliterating effects of Beast Incarnate will be the big draw for most fans. It's the kind of music that fuels metaphorical rhetoric: Most of the time it's a rocket ride through a mechanized slaughterhouse, in an active war zone, during an earthquake. This is what Beheaded do. And they do it very well, with dedication, veteran skill, and self-assurance. If you enjoy death metal that rushes at your head with megawatt energy, dizzying percussive pummeling, dark pulsating melodies, and an insatiable blood lust, this is your fix."
Beheaded's Beast Incarnate can be pre-order here.
Recorded at MKII Recording Studio (Italy) and mixed and mastered by Ronnie Björnström (Teadeat, Bone Gnawer, Aeon, Those Who Bring The Torture, etc.) at Enhanced Audio Productions Sweden, Beast Incarnate comes shrouded in the cover art of Gabriel Alegria Sabogal, welcomes the addition of new recruits — drummer Davide Billia and guitarist Simone Brigo — and truly stretches the boundaries of Beheaded's signature sound to meet new extremes.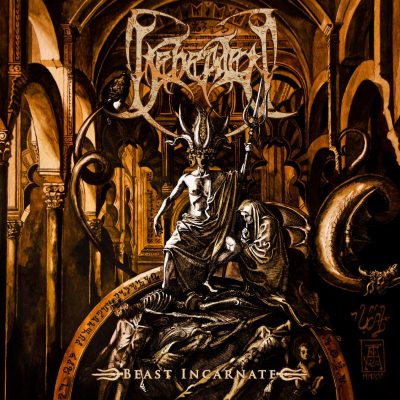 Rock Hard \m/