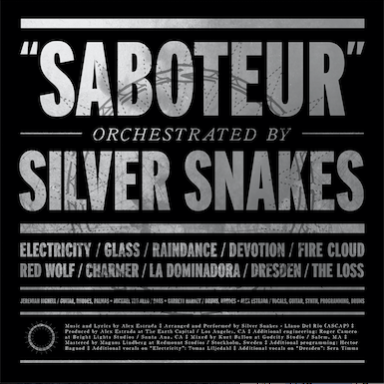 Last week I talked about how LA rockers, Silver Snakes, sound like a blend of NIN and Stabbing Westward, and now they are streaming their new album, Sabateur, in full over at AltPress.com. Head on over, check it out, and let us know what you think.
Saboteur is the the band's third full-length record and it's due out on Friday, February 5th, via Evil Ink Records and can be pre-ordered here.
Singer Alex Estrada stated:
Saboteur is an exciting release for us. Not only with the new labels and touring opportunities, but stylistically it's a record that we had to push ourselves to write. The ideas were there but the execution was very different for us. We've introduced new elements while maintaining our identity. This band started out much different from what it is today and we can only hope that Saboteur showcases that growth and our constant desire to forge our own path.
Silver Snakes will kick off their tour with Coheed and Cambria, glassjaw, and I The Mighty in the coming weeks. Tickets are on sale here.
Silver Snakes Tour Dates:

Feb 14 – Flagstaff, AZ – The Hive (w/I The Mighty)
Feb 15 – Albuquerque, NM – Launchpad (w/I The Mighty)
Feb 18 – St. Louis, MO – Firebird (w/I The Mighty)
Feb 19 – Indianapolis, IN – Emerson Theatre (w/I The Mighty)
Feb 20 – Rochester, NY – The Club @ Water Street (w/I The Mighty)
Feb 22 – Boston, MA – House of Blues (w/Coheed and Cambria, glassjaw, I The Mighty)
Feb 23 – Boston, MA – House of Blues (w/Coheed and Cambria, glassjaw, I The Mighty)
Feb 24 – Toronto, ON – Opera House (w/glassjaw)
Feb 25 – Royal Oak, MI – Royal Oak Music Theater (w/Coheed and Cambria, glassjaw, I The Mighty)
Feb 26 – Chicago, IL – Aragon Ballroom (w/Coheed and Cambria, glassjaw, I The Mighty)
Feb 27 – St. Paul, MN – Myth Live Event Center (w/Coheed and Cambria, glassjaw, I The Mighty)
Feb 28 – Milwaukee, WI – The Rave (w/glassjaw)
Feb 29 – Columbus, OH – The LC Indoor Pavilion (w/Coheed and Cambria, glassjaw, I The Mighty)
Mar 1 – Pittsburgh, PA – Stage AE (w/Coheed and Cambria, glassjaw, I The Mighty)
Mar 2 – Washington, DC – Echostage (w/Coheed and Cambria, glassjaw, I The Mighty)
Mar 4 – New York, NY – Theater at Madison Square Garden (w/Coheed and Cambria, glassjaw, I The Mighty)
Mar 5 – Philadelphia, PA – The Fillmore (w/Coheed and Cambria, glassjaw, I The Mighty)
Mar 6 – Virginia Beach, VA – Shaka's (w/glassjaw)
Mar 7 – Raleigh, NC – The Ritz (w/Coheed and Cambria, glassjaw, I The Mighty)
Mar 8 – Charlotte, NC – The Fillmore (w/Coheed and Cambria, glassjaw, I The Mighty)
Mar 10 – Miami, FL – The Fillmore (w/Coheed and Cambria, glassjaw, I The Mighty)
Mar 11 – Orlando, FL – Hard Rock Live (w/Coheed and Cambria, glassjaw, I The Mighty)
Mar 12 – St. Petersburg, FL – Jannus Live (w/Coheed and Cambria, glassjaw, I The Mighty)
Mar 13 – Jacksonville, FL – Jack Rabbits (w/glassjaw)
Mar 14 – Atlanta, GA – Tabernacle (w/Coheed and Cambria, glassjaw, I The Mighty)
Mar 15 – Nashville, TN – Marathon Music Works (w/Coheed and Cambria, glassjaw, I The Mighty)
Mar 16 – Baton Rouge, LA – Varsity Theatre (w/glassjaw)
Mar 17 – Houston, TX – Revention Music Center (w/Coheed and Cambria, glassjaw, I The Mighty)
Mar 18 – San Antonio, TX – Alamo City Music Hall (w/glassjaw)
Mar 19 – Dallas, TX – South Side Ballroom (w/Coheed and Cambria, glassjaw, I The Mighty)
Mar 21 – Tempe, AZ – The Marquee (w/Coheed and Cambria, glassjaw, I The Mighty)
Mar 22 – Los Angeles, CA – Hollywood Palladium (w/Coheed and Cambria, glassjaw, I The Mighty)
Mar 23 – San Francisco, CA – The Masonic (w/Coheed and Cambria, glassjaw, I The Mighty)
Mar 24 – San Diego, CA – The Observatory (w/glassjaw)
Mar 25 – Las Vegas, NV – Brooklyn Bowl Las Vegas (w/Coheed and Cambria, glassjaw, I The Mighty)
Mar 26 – Salt Lake City, UT – The Complex (w/Coheed and Cambria, glassjaw, I The Mighty)
Mar 27 – Denver, CO – Fillmore Auditorium (w/Coheed and Cambria, glassjaw, I The Mighty)
Rock Hard \m/