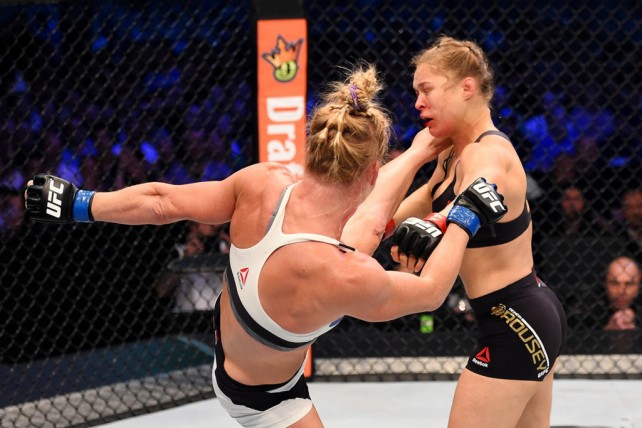 Newly crowned UFC bantamweight champion Holly Holm won't get her first title defense against Miesha Tate or Julianna Pena in 2016, but against former champ Ronda Rousey. According to UFC President Dana White via ESPN, Rousey is getting an immediate rematch despite being dominated by Holm at UFC 193 on November 15, 2015.
White said,
I think that if we didn't make the rematch, me and [UFC CEO] Lorenzo [Fertitta] should probably lose our promoters' license. Yeah, that fight's going to happen. I don't know when, but that's the fight that will happen.
The brash UFC president believes Rousey's prior achievements alone warrant the rematch.
Ronda Rousey has gone undefeated, taken the sport to another level and was beating the best women in the world in 14 seconds or 30 seconds, so she deserves a rematch," he said. "Holly agrees she deserves a rematch, and we'll figure it out.
There's no official word on when the rematch will take place, but we expect it to go down early next year. Rousey is currently taking some time off to film a few movies. So stay tuned to Yell! Magazine for more updates to come in the future.