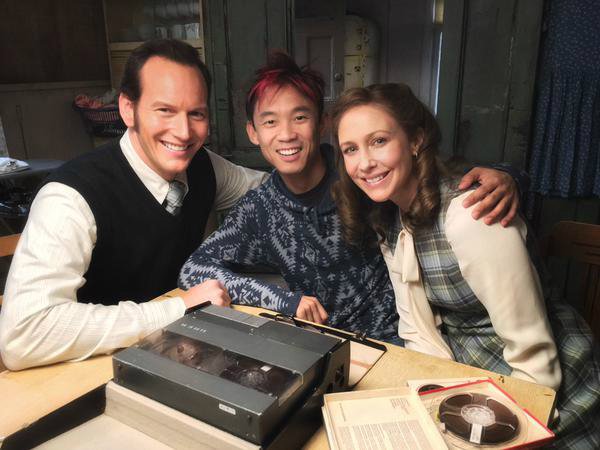 Horror mastermind James Wan (Saw, Insidious) is finally back in business after taking a short break from the genre scene. Wan is currently filming a follow up to 2013's The Conjuring and it definitely looks like he is thrilled to be back in horror based on a new on-set photo from The Conjuring 2, which he shared yesterday via Twitter.
The caption reads,
We're back, baby!
In the image (above), Wan is taking a photo break with onscreen duo of Ed and Lorraine Warren played by Patrick Wilson (Hard Candy, Insidious) and Vera Farmiga (Bates Motel), respectively. Both return to reprise their roles as paranormal investigative couple from The Conjuring.
Apparently, the sequel has them travelling to England to investigate paranormal activity at a council house in the London Borough of Enfield from 1977 to 1979. The house was rented by Peggy Hodgson, a single mother raising four children at the time. The case involves the alleged haunting of two sisters, aged 13 and 11.
There's still no word on the official plot synopsis, but we expect it to be unveilled very soon as the film moves forward in production. Wan is at the helm from a screenplay by twin brothers Chad and Carey Hayes, the writers of The Conjuring.
Stay tuned to Yell! Magazine for more updates to come for The Conjuring 2.