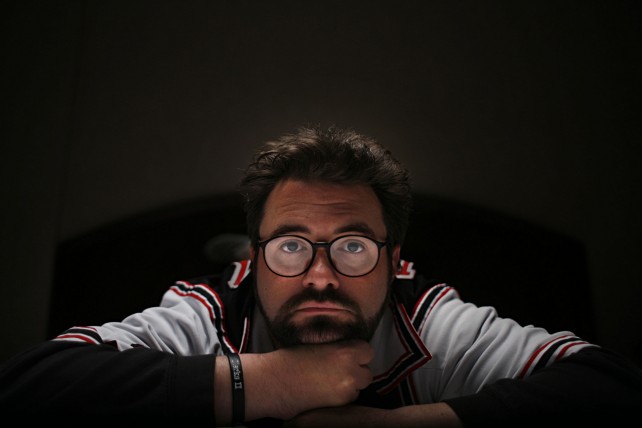 A week ahead of the San Diego Comic-Con, the Montreal Comiccon got underway on Friday, July 3, 2015. With plenty of esteemed guests from the sci-fi and horror camps, horror movie screenings and talks for the Con's Horrorfest, and cosplayers out in full force, the hands-down headliner was Kevin Smith!
As geek extraordinaire, Smith might be the geekiest of them all… at least all at this con. If he's not, he's definitely in the running with his twisted, self-deprecating sense of humor, grunge-era comedic movie credits that are immersed in and revolve around geekdom, his passion for hockey and Canada, his comic store ownership and his subsequent co-founding of Comic Book Men, and, last but not least, his exploration of the horror/thriller genre. Those are quite the credentials, Mr. Smith.
Smith, looking slim, took the stage with vigor at around 9:30 p.m. for a Q&A session, and with his charisma, charm, epic storytelling skills, and love to talk at length, two-plus hours sailed away. At times he had the audience rolling in the aisles, and others maybe pondering life and happiness, but almost always with a sexual or homosexual reference. The man likes his gay jokes, and somehow, in today's hypersensitive PC culture, Smith doesn't come across as offensive. Win!
Among his first points was the fact that he's missing the poutine festival, which later paid dividends as the Con's staff ran out and got him a dish of the fine French-Canadian cuisine and presented him with it on stage. Smith ate heartily.
He also talked about hockey, chatting with Jason Momoa about Aquaman and hockey (Momoa played hockey in his younger days until an injury put an end to it). From there, Smith moved on to texting and how we should all hook up with a teenage girl to text with and feel good about life. Yeah, creepy, but with the previous context of his story about texting with his daughter, it was a great punchline.
Smith's daughter was central to many of his stories, and she was a link in his lengthy discussions about Tusk and his mancrush, Johnny Depp (their daughters, Harley Quinn Smith and Lily-Rose Depp go to school together). As you may or may not know, Depp stars in Tusk, and both their daughters make an appearance. From that Smith-described wonderful experience of the four of them working together, a spin-off horror comedy is in the works; Yoga Hosers, written and directed by Smith, will star both daughters and Depp and Justin Long.
As Smith said, he's been "pushing whimsy" with his film career as of late. He talked at length about his rise with writing and directing what he knew, which was working at a convenience store and sharing shady juvenile humor with his friends, but basically since Dogma he's run out of life experience to write about. He went on and tried to force things by expanding the scope of his genre, but seeing that it wasn't necessarily working, he's taken the command decision to make films that he wants (pushing whimsy) regardless if they're smart moves or not.
From pushing whimsy comes Moose Jaws, which is described as "like JAWS, but with a moose." When asked for more information other than that description, Smith kindly replied, "what else do you need?" Again, the movie is to star Smith's and Depp's daughters, and will be set where else than in Canada. What's also very exciting about Moose Jaws is that Robert Kurtzman is interested in making a fully animatronic moose for the movie — let's hope they get a budget for that!
And, yes, Smith confirmed that a Mallrats sequel is coming.
From what we could see, Smith has remained as humble as his beginnings. Intentional or not, the overall message from his talk seemed to be to pursue your dreams, do what makes you happy, and pay it forward. Who can argue with kindness like that?
Oh, it should also be noted that Smith stated that he started out as a horror fan, citing such classics as From Beyond, Re-Animator… and the Cronenberg films. Basically, he and his friends enjoyed watching movies that made them say, "That's fucked up!"
Rock Hard \m/