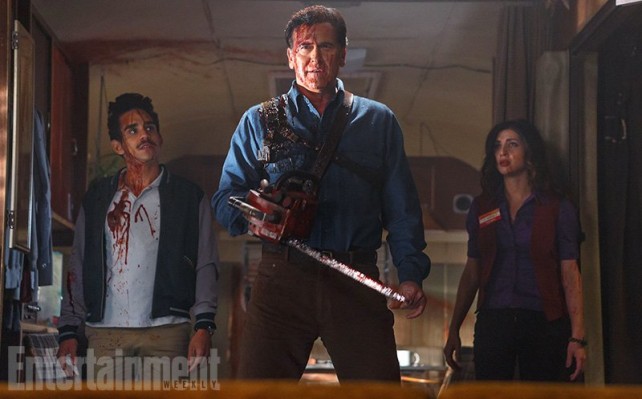 If you haven't seen the groovy new photo of Bruce Campbell reprising his fan-favorite character in Ash vs Evil Dead, then you've come to the right place for your first look at the iconic chainsaw-wielding hero. Ash is finally back and perhaps looking better than ever. Age doesn't really matter when evil strikes, it's experience that counts, and Ash has a whole lot of that. Here's what Sam Raimi had to say about the B movie icon:
He's the only one stupid enough to really tamper with those spirits. And he does. But he's also still a really good monster fighter.
And when things really start to get out of control with monsters, his new sidekick friends Pablo Simon Bolivar (Ray Santiago) and Kelly Maxwell (Dana DeLorenzo) are always there for a helping hand. Pablo is an idealistic immigrant who becomes Ash's loyal sidekick and Dana is a moody wild child trying to outrun her past. You can see both of them standing behind Ash in the first pic above.
Ash vs Evil Dead, the long-awaited follow-up to the classic horror film franchise The Evil Dead, is currently in production in New Zealand, and is set to premiere on STARZ in fall 2015.