…And Justice for Art is a book that features within its hallowed pages the cover art to many of heavy metal's best albums, as well as notes and interviews. The book will launch on April 15th, and since the first round of pre-sales sold out in a matter of 10 days, author Ramon "Oscuro" Martos (who writes for MetalUnderground.com, This Is Metal Magazine, and PureGrainAudio.com, etc.) and co-publisher, Dark Canvas, have decided to launch a second edition of 300 additional copies that are now available for pre-order via Big Cartel here.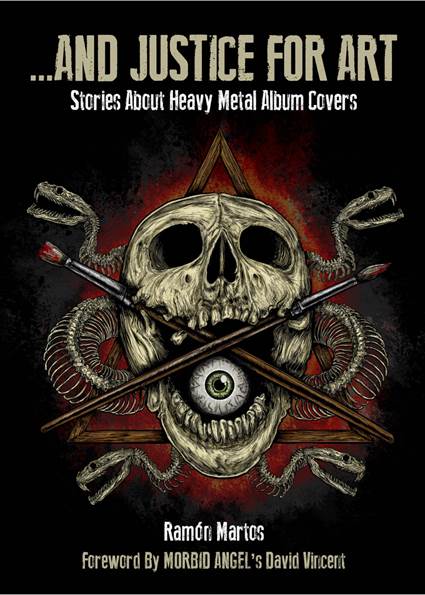 Along with the news of the new pre-sale, a preview video for the book has been revealed. In it, someone painstakingly turns the pages manually, one by one, to show off the beautiful art contained within. Personally, I think they could have used some sort of Flash-based thing-a-ding to show off the book. This feels subpar.
According to Morbid Angel's legendary bassist/vocalist, David Vincent, the book …And Justice For Art: Stories About Heavy Metal Album Covers is set to become "a historical document about the importance of metal album covers." This volume is a one-of-a-kind collection of stories that recount for the first time, all the particulars behind the making of artworks as iconic as Slayer's Reign in Blood, Morbid Angel's Blessed Are the Sick, Metallica's …And Justice for All, Motorhead's Orgasmatron, Death's Symbolic, Anthrax' Among the Living, Carcass' Heartwork, Testament's Dark Roots of Earth, Opeth's Heritage, At the Gates' Slaughter of the Soul, Van Halen's 1984, and many others.
Martos spent more than three years researching and interviewing more than 100 established and underground heavy metal bands for the book as well as renowned visual artists like Travis Smith, Eliran Kantor, Paul Raymond Gregory, Arik Roper, and Joe Petagno, among others.
The book's foreword was written by Morbid Angel's David Vincent. It features more than 400 graphics (some of which have never been seen before) and 264 glossy, color pages. It was printed thanks to a successful Indiegogo crowd-funding campaign that Martos launched last year raising 236% of its original goal. …And Justice for Art is also scheduled to be one of the main attractions of the Rock & Metal Gallery at the UK's famous Bloodstock Open Air in August 2015.
Several personalities of the heavy metal scene have already given praises to the book. For example, Cattle Decapitation's vocalist, Travis Ryan, affirmed that this volume is "exactly what the music world needs to remind us all just how important album covers have been to all of us that grew up surrounding ourselves with physical media." Obituary's drummer, Donald Tardy, declared, "I think this book will help to keep alive all these artworks." In addition, While Heaven Wepts's guitarist, Tom Phillips, commented that "…And Justice for Art delves far deeper into the behind-the-scenes stories than any other art books that I'm aware of. I have no doubt it will become an important document for musicologists in years to come."
Rock Hard \m/