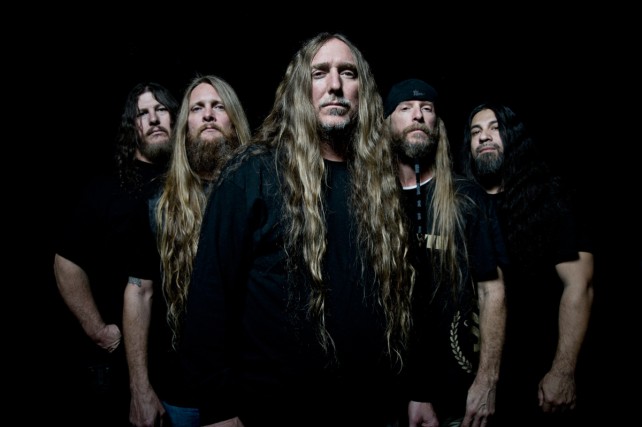 Obituary released their Relapse Records debut Inked In Blood, this past October. The album has been met with critical acclaim, and this week has cracked the Billboard Top 100, coming in at #75.
"Bloodsoaked"
Today Wondering Sound is hosting an exclusive stream of one of the bonus tracks from the special edition of Inked in Blood. The track is a rerecording of the Obituary classic "Bloodsoaked," from the album Slowly We Rot. Check it out, now!
Almost three decades in, Inked In Blood stands out as one of the finest moments in Obituary's already godlike discography. Inked in Blood is available for
purchase on CD, MP3, and Vinyl.
Inked in Blood is also available for streaming in its entirety on Bandcamp.
Tour Info:
In support of their new album the band will be touring extensively through North America and Europe throughout 2014 and 2015. The band's North American run with Death (DTA) and Massacre begins tonight in Los Angeles, California, and runs through December 7th in Miami, Florida. Then the band heads to Europe for a two week headlining tour in January. A complete list of dates is available below.
The Interactive Fun:
Obituary are giving fans the opportunity to "Ink Themselves in Blood" with an interactive web page where fans can upload their own head to the gruesome torso from the Inked in Blood cover art. Check out the unique experience here.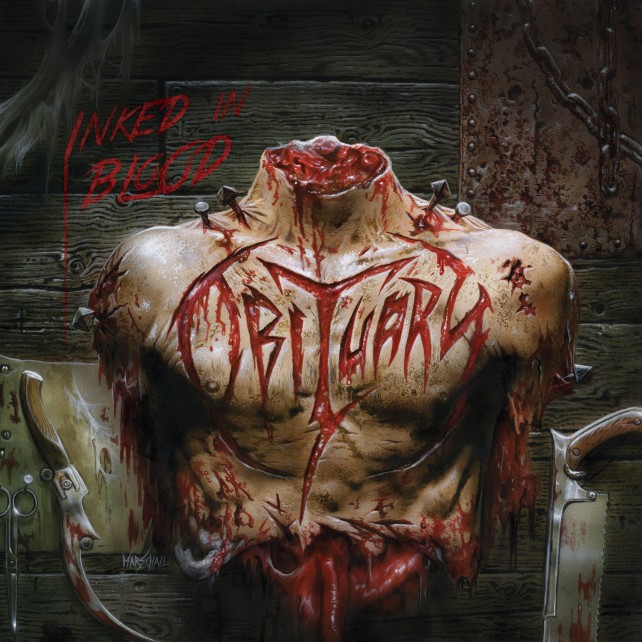 Obituary Tour Dates:
All Dates Nov 14 – Dec 07 w/ Death DTA, Massacre, Rivers of Nihil
Nov 14 Los Angeles, CA Club Nokia
Nov 15 Ramona, CA Ramona Mainstage
Nov 16 San Francisco, CA DNA Lounge
Nov 18 Seattle, WA Studio Seven
Nov 19 Vancouver, BC The Rickshaw Theatre w/ Untimely Demise
Nov 21 Calgary, AB MacEwan Ballroom w/ Untimely Demise
Nov 22 Regina, SK Riddell Centre w/ Untimely Demise
Nov 23 Winnipeg, MB Park Theatre w/ Untimely Demise
Nov 24 Minneapolis, MN Amsterdam Bar & Hall w/ Untimely Demise
Nov 25 Chicago, IL Metro
Nov 26 Cleveland, OH Agora Theatre and Ballroom
Nov 27 Toronto, ON Phoenix Concert Hall
Nov 28 Montreal, QC Le National
Nov 29 Boston, MA Brighton Music Hall
Nov 30 New York, NY Best Buy Theatre
Dec 03 Springfield, VA Empire
Dec 04 Charlotte, NC Tremont Music Hall
Dec 05 Atlanta, GA The Masquerade
Dec 06 Tampa, FL Orpheum
Dec 07 Miami, FL Grand Central
Inked In Blood Euro Tour 2015 w/ Empire of Evil and Dustbolt
Jan 15 Essen, Germany Turock
Jan 16 Alkmar, Holland Victory
Jan 17 Bremen, Germany Tivoli
Jan 18 Praha, Czech Republic Futurum
Jan 19 Krakow, Poland Fabryka
Jan 21 Budapest, Hungary Durer Kurt
Jan 22 Vienna, Austria Szene
Jan 23 Innsbruck, Austria Weekender Club
Jan 24 Romagnano, Italy R&R Area
Jan 25 Luzern, Switzerland Schuur
Jan 27 Barcelona, Spain Salamandra
Jan 28 Toulouse, France Metronum
Jan 29 Paris, France Divan du Monde
Jan 30 Enschede, Holland Atak
Jan 31 Antwerp, Belgium Zaal de Kuup/Horror Festival
Feb 01 London, England Underworld
May 22 Baltimore, MD Maryland Deathfest XIII (2015) @ Edison Lot
Rock Hard \m/