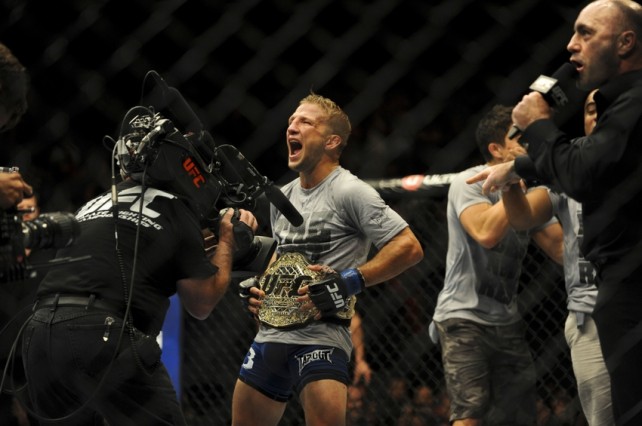 The UFC announced an updated fight card and released ticket prices for UFC 186: Dillashaw vs. Barao II at the Bell Centre on Saturday, April 25th. The organization will be returning to Montreal with two championship title fights, including the highly anticipated rematch between the world's No.9-ranked pound-for-pound mixed martial artist, UFC bantamweight champion T.J. Dillashaw (12-2, fighting out of Sacramento, California), and No.1 contender Renan Barao (35-2, 1NC, fighting out of Rio de Janeiro, Brazil). The new co-main event will feature UFC flyweight champion and the world's No.3 ranked pound-for-pound fighter Demetrious Johnson (21-2-1, fighting out of Parkland, Washington) against No.8 ranked Kyoji Horiguchi (15-1, fighting out of Tokyo, Japan). Tickets for UFC 186: Dillashaw vs. Barao II will go on sale to the general public on Saturday, February 28th, at 10 a.m. EST.
Dillashaw and Barao's first bout earned "Fight of the Night" honours at UFC 173 in May 2013. The 135-pound Champion Barao entered the Octagon with an impressive 32-fight unbeaten streak and three successful title defenses since becoming champion in 2012. However, Dillashaw dominated Barao throughout four rounds and earned a fifth round TKO victory. The two were slated for a rematch at UFC 177 in August 2014, but Barao was forced to cancel due to issues with his weight cut. With Barao out, Joe Soto, who was originally scheduled to fight on the undercard, stepped in to challenge Dillashaw for the title. After four rounds, Dillashaw landed a head kick to earn another KO victory in the fifth round to defend his title for the first time. Dillashaw has won seven of his last eight, with three by submission and five by KO. Meanwhile, Barao was back in action in December 2014, and earned a "Performance of the Night" arm triangle choke submission victory over Canadian Mitch Gagnon. Barao is a dangerous submission specialist and has won 15 of 35 by submission and 8 by knockout.
Johnson is the first and only flyweight champion in UFC history, winning the belt in 2012 against top competitor Joseph Benavidez. Currently on an eight-fight unbeaten streak, "Mighty Mouse" owns eight wins by submission and four by knockout, proving the range of his dangerous skill set. Johnson will look to defend his belt for the sixth time against rising contender Horiguchi, who is currently 4-0 in the UFC and on a nine-fight win streak. Horiguchi, who has five first-round finishes and nine wins by knockout, will be on a mission to bring UFC gold to Japan for the first time. The UFC 186 co-main event also marks the introduction of the 125-pound division to La Belle Province, as it will be the first UFC flyweight tilt ever to be held in the Province of Quebec. The Bell Centre faithful will see firsthand the speed and agility the flyweights bring inside the Octagon as they demonstrate why the division is like no other in the UFC.
The previously scheduled bout between welterweights Rory MacDonald and Hector Lombard has been removed from the card and updates for both fighters will be provided when available.
The Ultimate Fighter Nations winner Chad Laprise (10-0, fighting out of Montreal, Canada) has also been added to the card. Laprise will face American Bryan Barberena (10-2, fighting out of Glendale, Ariz., USA) in a lightweight bout.
---
Other confirmed bouts for UFC 186: DILLASHAW vs. BARAO II include:
– Former UFC light heavyweight champion Quinton "Rampage" Jackson (32-10, fighting out of Irvine, Ca., USA) will make his return to the Octagon® after a two year absence. He will face No.13 ranked Fabio Maldonado (22-7, fighting out of Florianopolis, Santa Catarina, Brazil) in a battle of heavy handed strikers at 205 pounds
– No.9 ranked Englishman Michael Bisping (26-7-0, fighting out of Manchester, England) will face a tough test in finishing specialist and No.11 ranked C.B. Dolloway (16-7, fighting out of Tempe, Az., USA) in the middleweight division
– Veteran power-puncher Yves Jabouin (20-9, fighting out of Montreal, Canada) fights undefeated Thomas Almeida (18-0, fighting out of Sao Paulo, Brazil) in a bantamweight fight sure to produce fireworks
– Patrick Côté (21-9, fighting out of Montreal, Canada) will meet knockout artist Joe Riggs (40-15, fighting out of Glendale, Az., USA) in a welterweight showdown
– John Makdessi (12-3, fighting out of Montreal, Canada) will face 12-6 Abel Trujillo (12-6,1NC, fighting out of Boca Raton, FL., USA) in a lightweight bout
– In a battle of The Ultimate Fighter® alums, judo black belt Olivier Aubin-Mercier (6-1, fighting out of Montreal, Canada) clashes with David Michaud (8-1, fighting out of Glendale, Az., USA) in a lightweight tilt
– Welterweight Nordine Taleb (10-2, fighting out of Montreal, Canada) meets Brazil's Claudio Silva (11-1, fighting out of Rio de Janeiro, Brazil)
– World champion boxer Jessica Rakoczy (1-4, fighting out of Las Vegas, Nv., USA), originally from Hamilton, Ontario, makes her return to the Octagon® after becoming The Ultimate Fighter® runner-up in 2013. She will meet another striking specialist and fellow Canadian, Valerie
– Letourneau (6-3, fighting out of Coconut Creek, Fl., USA by way of Montreal, Canada), in a strawweight bout. Both women have dropped a weight class and enter the newest division in the UFC
Source: UFC