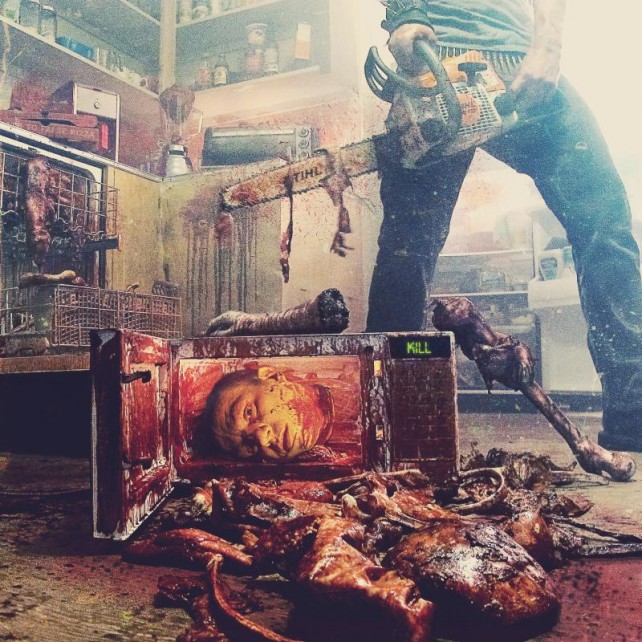 With the re-unveiling of Exhumed's now-iconic full-length, Gore Metal: A Necrospective: 1998 – 2015, now just one month away, go get your ear holes decimated at Revolver Magazine with a renovated version of longtime live favorite, "Limb From Limb."
Expounds vocalist/guitarist Matt Harvey:
So… for the second 'single' from our hubris-laden rerecording of Gore Metal, here's live staple 'Limb From Limb.' This one has been rerecorded pretty much exactly how we've played it live for years now; faster and a bit punchier than the original – not to mention infinitely more audible – and with the lovely chainsaw solo in the bridge. Now that's what I call musical development! Anyway, it's a great tune to piss off some neighbors with and will hopefully inspire you to find new and atrocious uses for your motorized home and garden appliances. Cheers, and enjoy!
Exhumed 2015 Tour Dates:
1/24/2015 The Rock – Tucson, AZ
1/25/2015 Red 7 – Austin, TX
w/ Napalm Death, Voivod, Iron Reagan, Black Crown Initiate
1/27/2015 Grand Central – Miami, FL w/ Ringworm
1/28/2015 State Theater – St. Petersburg, FL w/ Ringworm
1/29/2015 The Masquerade – Atlanta, GA w/ Ringworm
1/30/2015 Ziggy's – Winston-Salem, NC w/ Ringworm
1/31/2015 Soundstage – Baltimore, MD w/ Ringworm
2/02/2015 Gramercy Theater – New York, NY w/ Ringworm
2/03/2015 Union Transfer – Philadelphia, PA w/ Ringworm
2/04/2015 Opera House – Toronto, ON
2/05/2015 Maverick's – Ottawa, ON
2/06/2015 Club Soda – Montreal, QC
2/07/2015 Palladium – Worcester, MA w/ Ringworm
2/08/2015 The Chance – Poughkeepsie, NY w/ Ringworm
2/09/2015 Agora Ballroom – Cleveland, OH w/ Ringworm
2/10/2015 Reggie's – Chicago, IL w/ Ringworm
2/11/2015 Amsterdam – Minneapolis, MN w/ Ringworm
2/12/2015 The Zoo – Winnipeg, MB
2/13/2015 The Exchange – Regina, SK
2/14/2015 Republik – Calgary, AB
2/15/2015 Starlite Room – Edmonton, AB
2/17/2015 Rickshaw Theater – Vancouver, BC w/ Dayglo Abortions
2/18/2015 Studio Seven – Seattle, WA w/ Theories
2/19/2015 Hawthorne Theater – Portland, OR
2/20/2015 Metro – Oakland, CA w/ Phobia
2/21/2015 Strummers – Fresno, CA w/ Phobia
2/22/2015 House of Blues – Los Angeles, CA
2/23/2015 Club Red – Tempe, AZ w/ Phobia
2/24/2015 Sunshine Theater – Albuquerque, NM w/ Phobia
2/25/2015 Summit Music Hall – Denver, CO w/ Phobia
2/26/2015 Granada Theater – Lawrence, KS w/ Phobia
2/27/2015 Gas Monkey – Dallas, TX w/ Phobia
2/28/2015 Fitzgerald's – Houston, TX w/ Phobia
Rock Hard \m/